/

/

/

How to Hire a Blog Writer for Food and Drinks
Everybody eats, which means food and drink is one of the largest industries in the world. Whether it's industrial food production, gourmet cooking, restaurant business, hospitality, dieting, or something else completely, there's a near-infinite depth of options for writing about food.
If you're running a food or drink-based business, or you're operating a site that creates food content, chances are you want to dedicate yourself to the aspects of the business that need your attention. You might not have time, attention, energy, or wherewithal to keep up with your blog, even if your blog is your primary means of driving traffic. It's a lot of work, after all!
The best solution is to hire a writer to write content for your food and drink blog. The question is, how do you do it?

Luckily, I'm here with expert tips and a process you can follow!
Step 1: Determine Your Needs
If you've read any of my hiring guides before this one, I probably sound like a broken record by this point. The thing is, the process is largely similar regardless of what industry or niche you occupy. The first step for any of them is to look inward, do some introspection, and decide what you want your prospective writer to do.
For food and drink, you have a few options, and they depend somewhat on the kind of business and blog you're running.
The hardest role to fill is editorial, story-based food blogging. Since these kinds of sites are so heavily dependent on your individual voice and your personal stories, it can be hard to find someone who can step in and write that kind of content while maintaining that voice. If you find such a writer, they'll be worth their weight in gold, but it can be virtually impossible to find someone with that capability.
General informational blogs are easier to fill. You can provide information for them to write about or just provide topics they can research, which can be anything from specific recipes to diet plans to particular products. Since the goal of these kinds of sites is usually to position yourself as a thought leader and authority, all you need is someone who can write with authority on your chosen subject.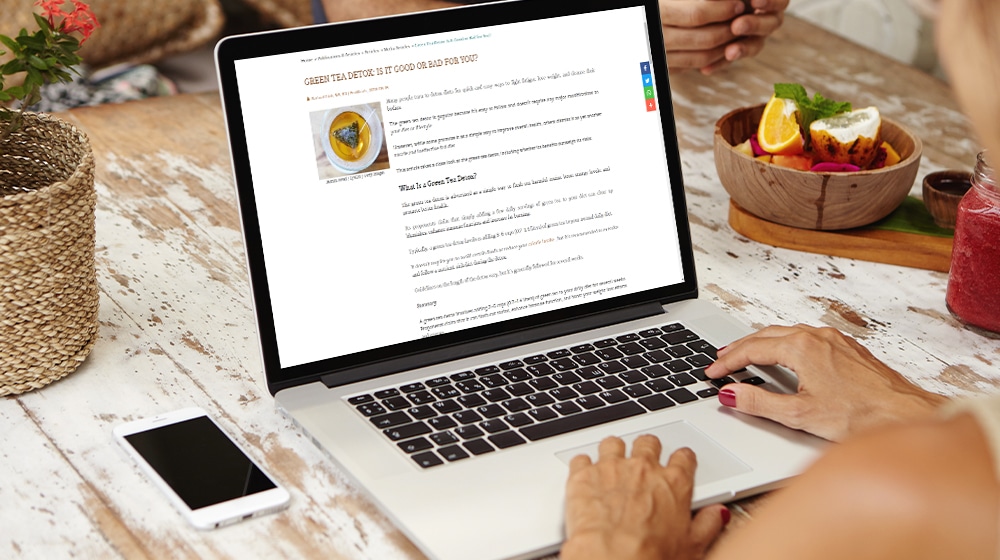 You also have to decide if you want partial work and polishing/editing services or writing from scratch. If your voice is important, then having a writer create a first draft you can go through and edit into your style is a good way to save some time. Conversely, if you want them to write polished content based on your information, or their own research, you're more flexible with the kinds of writers you can hire.
Another decision you need to make is what level of work you'll be having the writer produce. Hiring a writer to write one 1,500-word blog post each week is very different from hiring a writer to write three 2,000-word posts each week. Expenses grow the more you want the writer to cover.
So, consider technical details like word count, publication frequency, linking requirements, and whether or not you'll have the writer handle non-writing tasks like filling out a recipe plugin, inserting pictures, or copyediting other content.
Step 2: Determine the Relationship You Want
When looking for a writer, you have more decisions to make because this is going to be a serious employment decision.
Your first choice is whether you want a freelancer or an employee. Employees usually cost less but have stricter requirements and a different working relationship. For a blog writer, this is rarely the go-to option, but it can be viable for some businesses and bloggers. Hiring a freelancer is more up-front expensive (but less expensive if you're paying benefits for the employee) and more flexible but potentially less reliable.
A third option is to hire an agency. Agencies can handle your whole blog for you, or just the content writing portion of it, or anything in between. They're the most expensive but most hands-free option. If you're looking to outsource your writing and focus on growing your business in other ways, an agency can be ideal.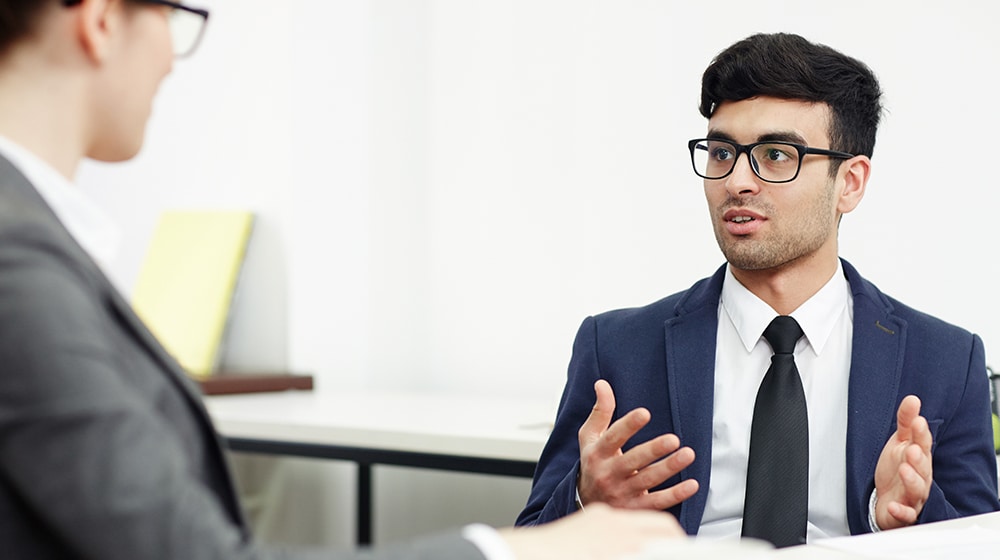 Another related decision is whether or not your writer will be a ghostwriter. Ghostwriters don't get bylines; they write content and sell the rights to it to you. They aren't credited at all, so none of your readers ever know you aren't writing everything yourself. Writers who put their names on the content they publish on your site have the advantage of bringing their audience and name recognition, if they have any; at the same time, they can dilute your personal brand if that's important to your business.
It's worth mentioning here that the decisions you make are all fine. There's no wrong answer in general, just answers that work better or worse for you and your situation. That's why you need to spend time thinking about it first to decide what you need and what you're looking for in your writer.
Step 3: Locate Potential Writers
Next up, you need to find writers. You have two general options here: you can go to them, or you can have them come to you.
"Going to them" means one of two things.
First, you can check out content mills and freelance writing sites. These are sites like Textbroker, Writer Access, Verblio, and Constant Content. These are all third-party sites that aggregate writers and serve as mediators, contract enforcers, and escrow services. You pay the site, and the site pays the writers who work with you.
Content mills have a few flaws. For one thing, you aren't always guaranteed to be working with the same writer each time you post an assignment. You can sometimes pick a writer and work with them directly, but they may charge higher rates to do so, or they may have limited availability week to week. They also tend to monitor, anonymize, or even censor your communications with the writer – after all, they don't want you to track each other down outside of the platform and lose out on their cut of the payments. Quality and skill levels can vary wildly, as well. On the plus side, they tend to be just about the cheapest option that isn't ESL, theft, or AI.
The other option is to look on freelancer hubs. These can be sites like Upwork or Freelancer.com, where freelance workers of varying types (including writers) can post and maintain their own profiles. You can post jobs on these sites, or you can search for freelancers who meet your needs, browse their profiles, and offer them a project if you think they'd suit you.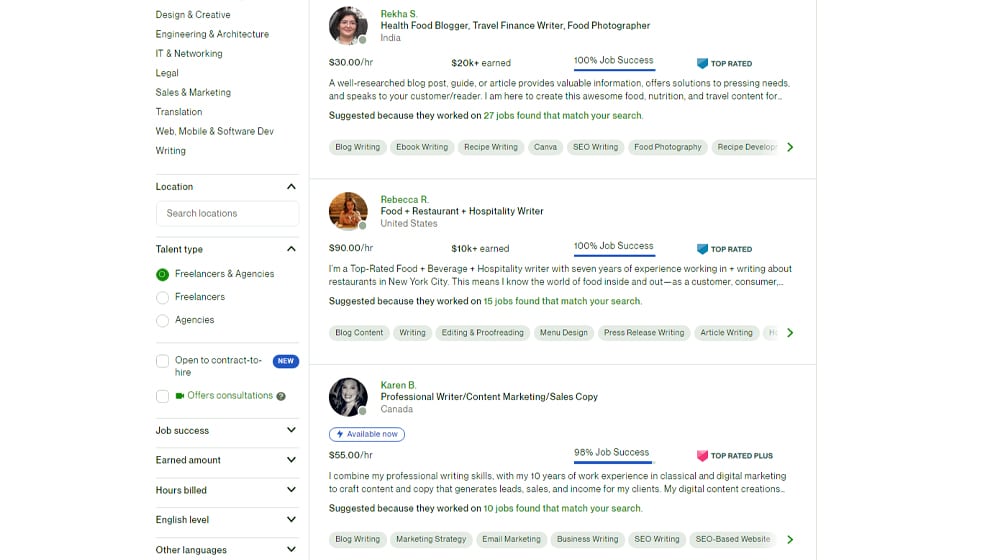 This gives you the advantage of being able to see the skills, accolades, and testimonials of the writers available in advance, and you can chat with them directly before hiring them. On the other hand, the best writers might not be available for what you need, or they may be difficult to work with, or they may not quite suit your needs, and it can be hard to tell until you've tried to work with them. It's a relatively slow process to find a freelancer, work with them, evaluate them, and then start all over if they don't work out.
The other option is having writers come to you.
For this option, you need to post job ads in places where freelance writers frequent.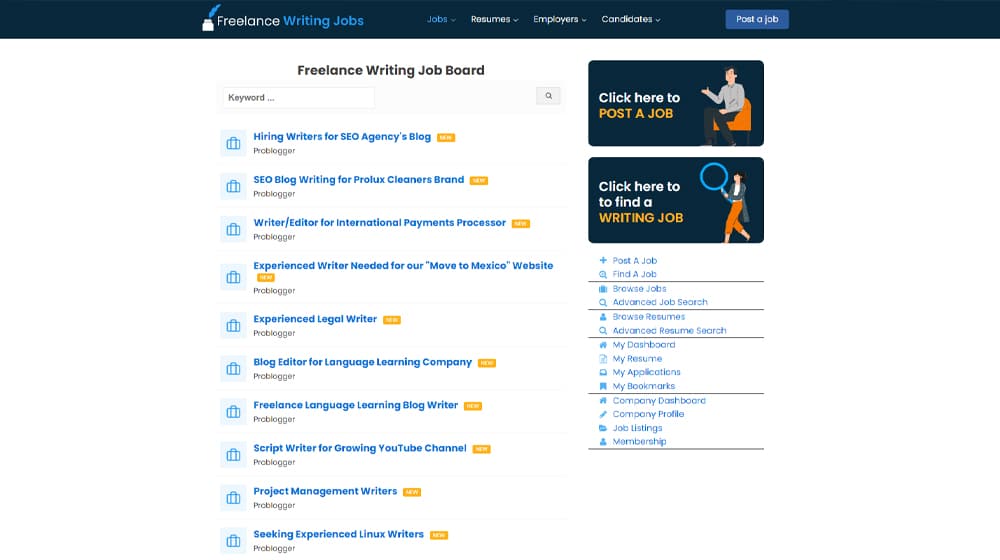 Options for this include:
Your Own Website. Posting a careers page, a "write for us" page, a "help wanted" page, or anything of the sort can advertise to your audience that you're looking for a writer, and interested writers can apply. This can be beneficial because Google can find it and because the people who are already familiar with you can apply and have a leg up on the competition.
Freelance Writing Jobs. That's right, the site you're reading right now has a job board! Browse it to see what other companies are asking for and offering, and create your own job posting with a few simple clicks and a form. I'm doing my best to make this the most effective job board for writers out there.
Writing-Specific Job Boards. Sites like ProBlogger also have blogging-focused job boards that can help you find writers.
Remote Work Job Boards. Sites like Flexjobs and Guru allow you to post jobs for remote work of all kinds. You'll have a lot of people seeing your ads and not being interested in the work, but you'll also find plenty of writers, though maybe not the best writers.
The hardest part of this option is filtering through the applications you get to find writers who are worth the time of evaluating them. This is why so many businesses choose to find freelancers directly; it's easier and less expensive and time-consuming, even if it's more likely to result in lower-quality initial attempts.
Step 4: Evaluate Your Candidates
At this point, you may have a couple of candidates in mind, or you may have a pile of applications from a job listing. Either way, your next step is to evaluate your candidates.
Traditionally, when hiring, you would conduct an interview. I still recommend an interview for a freelance writer because it's a good way to do some initial filtering (to get rid of the people who don't actually know anything about your diet plan, don't cook, or don't drink) but an interview will only tell you so much.
Mostly, you want to issue your writers a test project. A test project should be as close to the real thing as possible – in fact, if you can, set yourself up such that you can publish the results if they turn out decent regardless. This is easier when you're testing only a couple of writers rather than a whole group since you'd need individual topics for each of them.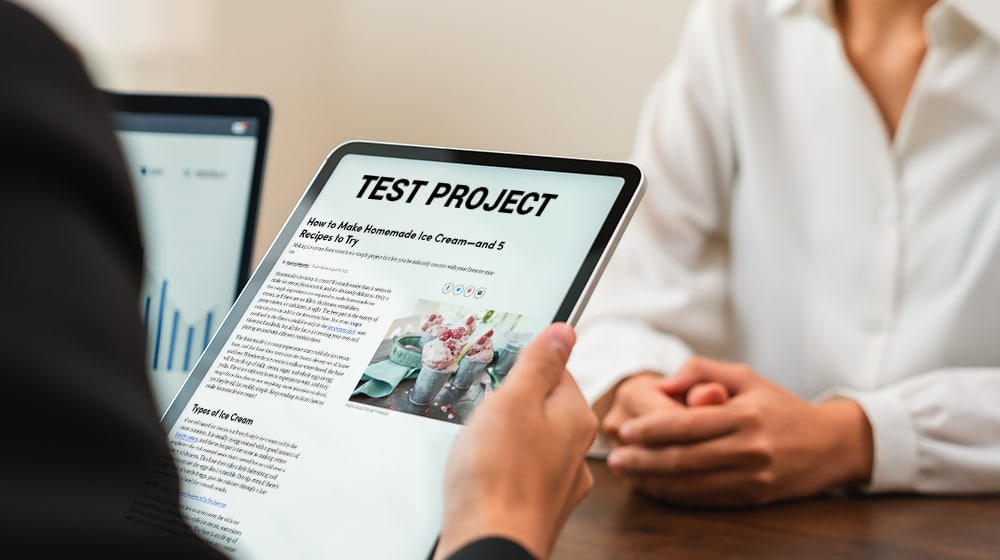 One critical element here is to make sure you pay for your test projects, even if the rate is a bit lower than you would normally pay for a full post. Being asked to provide unique test content for no pay is a common scam in the writing world, so the best writer candidates will ghost you if you're asking for free, unique work.
Yes, this means you'll likely pay for content you can't use or don't like. That's fine; it's simply part of the cost of hiring.
Once you receive work back, read through it and see if it suits your needs. Is it factually accurate? Is it free from errors and mistakes? Is it well-formatted? Does it meet the requirements you set out in your assignment?
In many cases, you'll want to do several trials or even just work with the writer on a probationary period until they get a bit more settled. Sometimes, they might decide they don't like working with you (or vice versa; you may find them too difficult to contact or work with for revisions), or their expertise falls short when you get to more complex topics. Whatever the case, you'll eventually narrow down your candidate pool until you end up with a talented writer you can work with for the long term.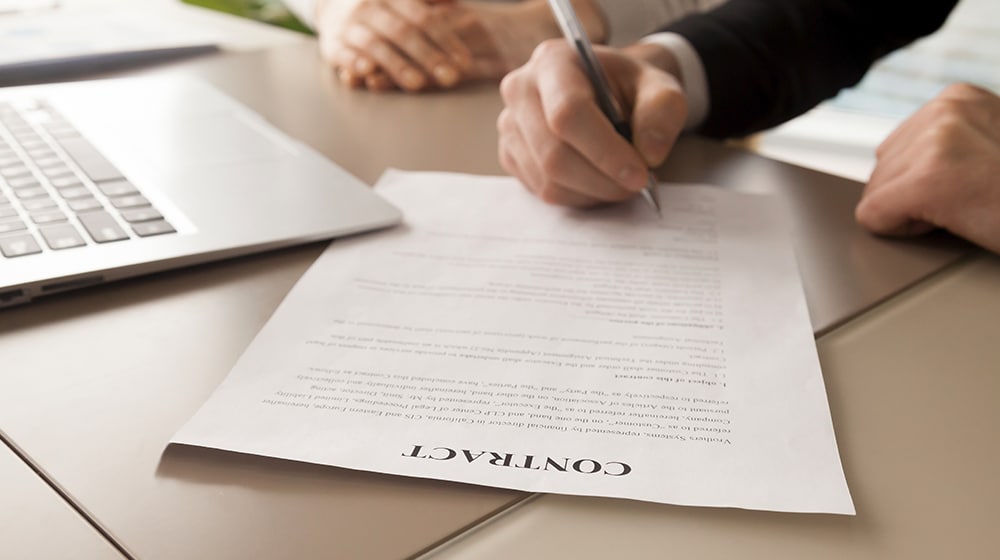 Once you find a writer who can produce content of the quality level you need, with the right kind of tone and voice for your brand, lock them in. Propose the full extent of your project, and whenever possible, get a contract signed. Contracts protect both parties should something go wrong, though ideally, they will never be used.
If you need advice on any of the above, or you have any questions about hiring a writer for your food/drink/nutrition/dieting/etc. blog, feel free to drop me a line. I'd be more than happy to assist you however I can. I've worked with freelance writers for many years now, and I made this site to answer questions and help others find writers that suit their needs with as little effort as possible. Or, skip right to posting a job opportunity and see who applies. The choice is yours!