When you need to hire a writer, you go where the writers are. ProBlogger offers a job board aimed at helping businesses find freelance writers for anything from outreach to special projects to ongoing, consistent weekly work. It's one of the best resources for hiring writers, but it's not the only resource, not by a long shot.
Whether you don't like ProBlogger, or you want to broaden your writer pool and see who else is out there, here are 20 different alternatives to the ProBlogger job board you can try.
Let's dig in!
1: Standard Job Boards
There are no specific links for this one because you already know where to find them.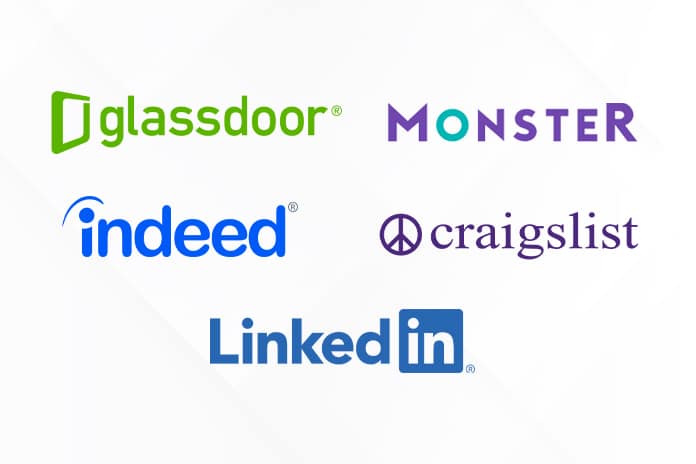 Boards like Monster, Indeed, Glassdoor, LinkedIn, and even Craigslist are all options for seeking new freelance writers.

Are they good choices? That depends heavily on your needs. If you're seeking out writers to fill a lot of low-level niches, it can be acceptable. However, since these job boards are both prevalent and very generalist, you will likely get a ton of applications from writers who just won't fit your needs. They are, however, always available as a baseline option if nothing else gets you what you want.
In years past, two major hubs for freelance work were oDesk and eLance. The two merged into one platform a while back, which renamed itself Upwork. Today, Upwork is generally considered one of the better hubs for freelance work on the internet.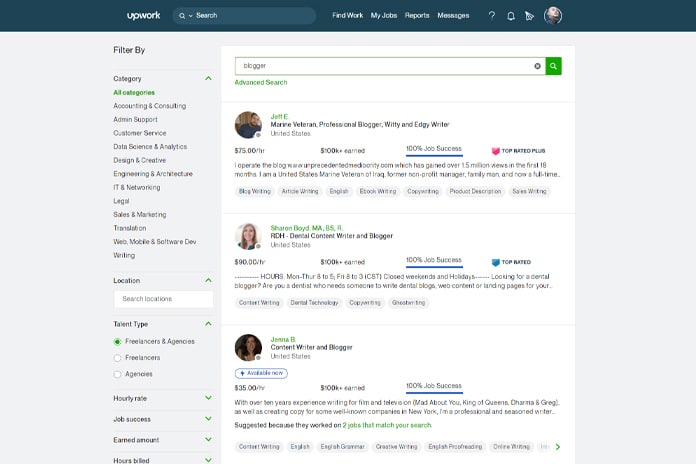 It's large enough to have a significant client base and has a broad enough range of work that you can find a niche and specialize as a writer. For someone looking to hire writers, you have your pick of people in nearly any niche, industry, and price range to suit your needs.
FlexJobs is a job site for remote work more than freelancing, but writing has always been a primarily remote job, so there are plenty of good writers on the job board to find new clients.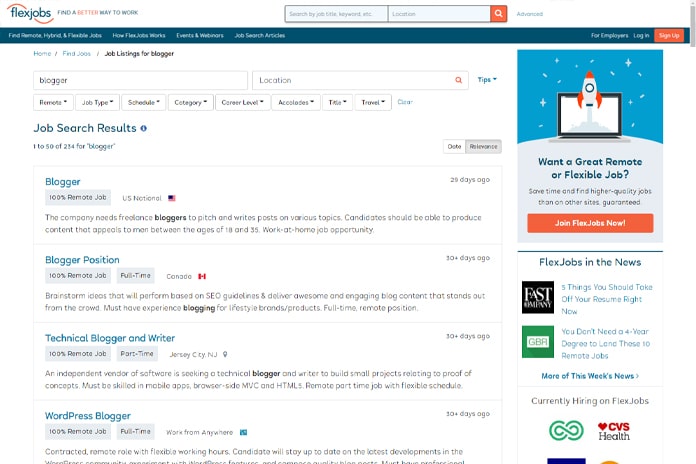 As a business looking to hire writers, FlexJobs is a great place to find them. You can search for writers based on pricing, experience level, niche, and other features or post a job and let them come to you.
Contena is a small, invite-only community for writers and selects only the best of the best. They claim to have the top 10% of writers and editors available, and they don't take a cut of the work they facilitate.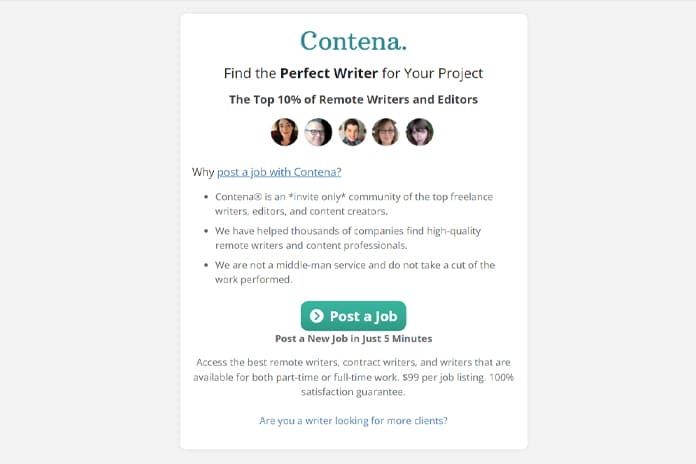 It costs $99 for a job listing with a 100% satisfaction guarantee, which you don't often see in freelance writing.
Billing itself as the #1 content writing job board on the internet, this is a reasonably popular site with over 100,000 monthly visitors and nearly 10,000 newsletter subscribers. It costs $300 to post a job on the board, though they have no up-front information on how long it stays active or what they do to promote it.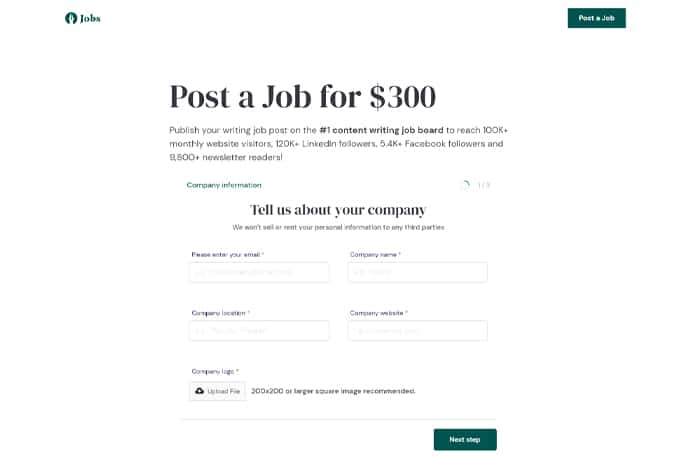 You can find writers for remote, contract, full-time, or freelance jobs, and you can pull in professionals worldwide. Some significant companies appear to use this site, so there's some actual weight behind it. Of course, some of these sites syndicate their job listings, so it's difficult to say if these companies paid Content Writing Jobs for their listings.
Behance is a job board powered by Adobe, so it has a lot of backing behind it. Unfortunately, it's not just a writing job board; it's a board for creatives of all types. On the other hand, if you need writers, graphic designers, videographers, product designers, or a thousand different creative roles, you can find them all in one place.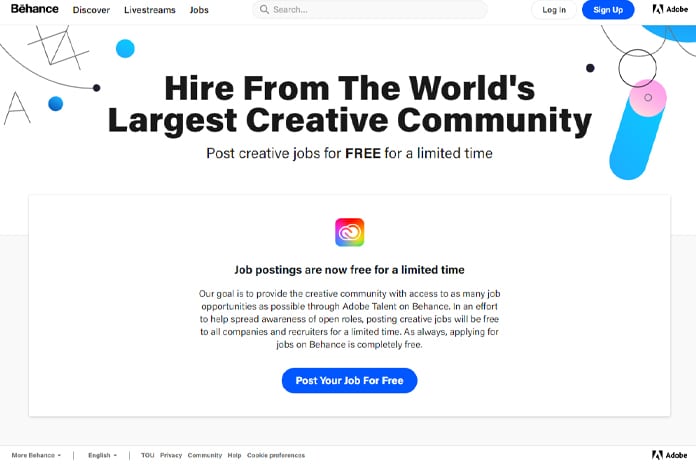 As of this writing, Adobe is allowing companies to post jobs for free. There's no mention of how long this promotion will last, so check back frequently to see if their pricing changes.
Mediabistro is another trendy job board for various creative types, though they have a higher level of writer representation than a few of the other entries on this list. The caveat is that it's one of the most expensive options.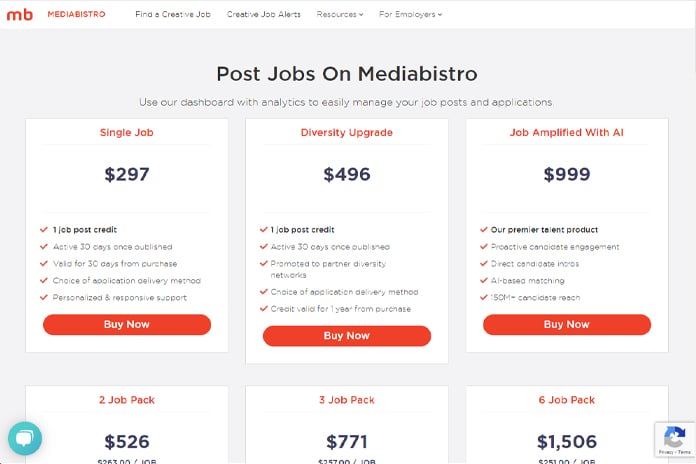 You can post one ad for 30 days for $300, pay $500 for access to their diversity networks, or pay $1,000 for access to "premier talent" and AI-based skill matching to pick a writer most suited to your needs. Whether or not any of that is worth it is entirely up to you. There are at least discounts for multi-job packs if you need to hire more than one writer at a time.
Freelance Writer's Den is a small, exclusive community of mid-tier and high-tier writers open to pursuing freelance writing jobs. You can post a job opening on the board for free or search for writers with specialties in the niches you need to be covered.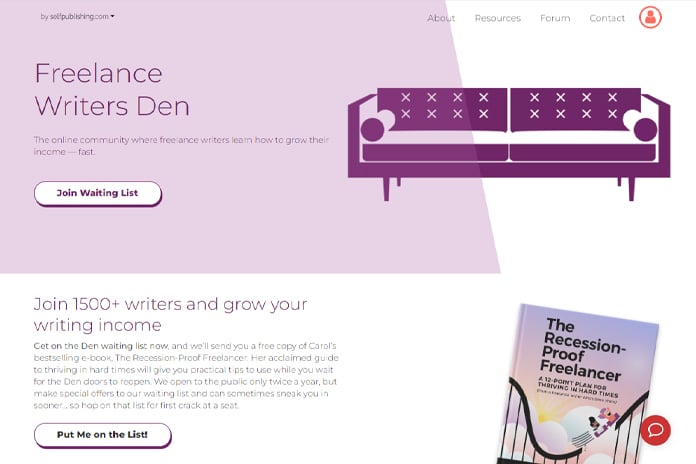 The Den is a paid membership community for writers because, besides features like their job board, they also offer hundreds of hours of boot camps and training materials to help writers be the best at their craft. That means you're looking at writers much better than the usual content mill chaff; they have the skills to make a living as full-time writers through quality, not quantity.
This website isn't technically a job board. Instead, it's a crowdsourced database for writers to learn about clients and see what rates those clients are paying. So why is it here?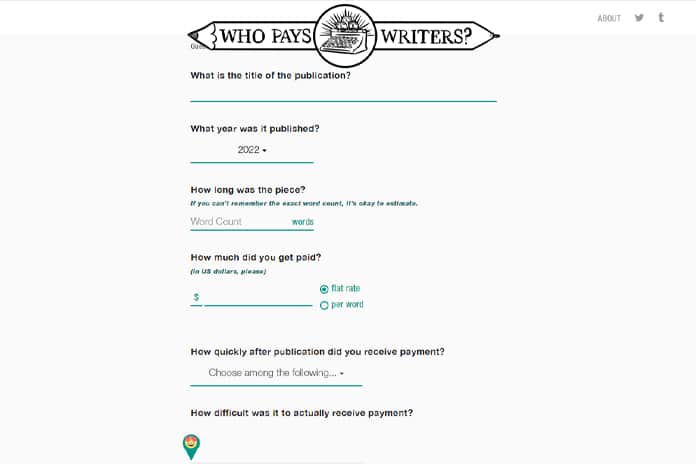 You can use it as a sneaky job board to find writers. Set up a job listing on your site or another easy-to-find location, and then go to Who Pays Writers and submit a tip. Tips are anonymous and from the writer's perspective, so make sure you are honest and consistent with your terms. If writers find your rates acceptable, they'll be more likely to seek you out, and you'll find some pretty good applications this way.
FreelanceWriting.com is another popular destination for writers, and their job board is usually quite active. As one of the oldest sites dedicated to freelance writing on the internet, it has a solid reputation and does right by its writers as much as possible.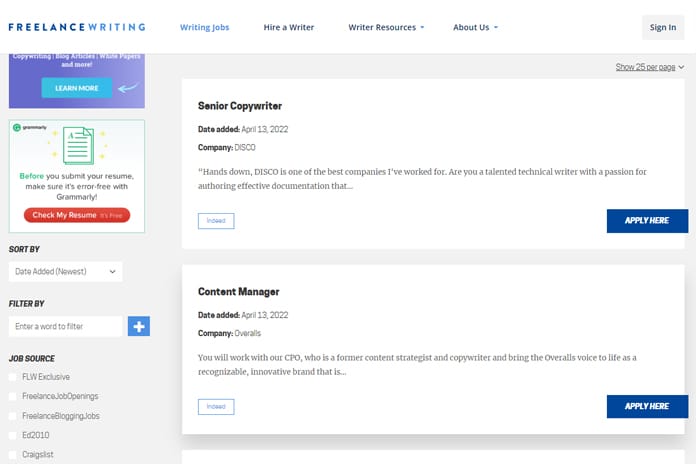 You can post a job to their database for free and hire writers with various specialties for both one-off projects and ongoing contracts.
This website is a smaller job board emphasizing quality, though how much they live up to it is up to you. ED2010 charges $99 to host a job. Still, more importantly, they also require at least competitive rates equivalent to minimum wage ($15/hour), unless it's explicitly an internship and gives the writer a byline. Since the job board is based in New York, they also require a salary range for jobs posted on the site under New York law.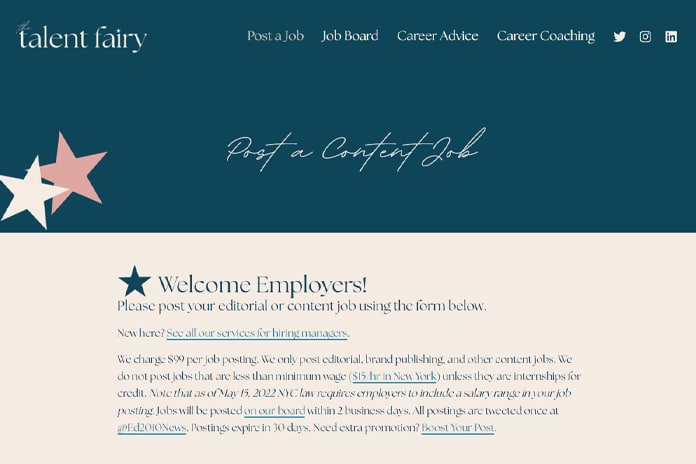 Still, you can often find talented writers here with a bit of patience. The caveat is that you're generally expected to hire them as employees rather than freelancers, which may not be what you're looking for.
BloggingPro is a job board almost entirely centered around, you guessed it, blogging. While some other forms of content marketing can slip through, for the most part, you're going to be getting people who specialize in blogging, either in general or in specific formats or industries.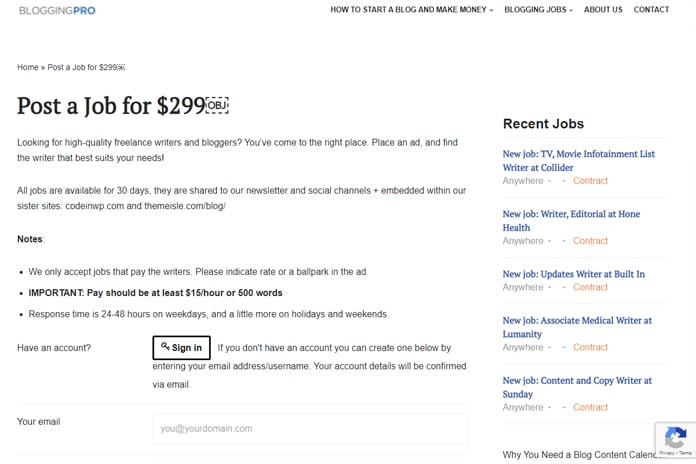 In addition to paying your writers, you need to pay the board to host your ad. Your job posting lasts for 30 days and is shared on their social media feeds and newsletter for writers, but it will cost you $300 to list it. While it's an expensive listing fee, you can get some good writers out of it, which may be worthwhile.
Above, we mentioned Upwork as one of the leading hubs for freelance work online. Freelancer is the other one. They've long been a competitor of Upwork, and they work in a nearly identical way.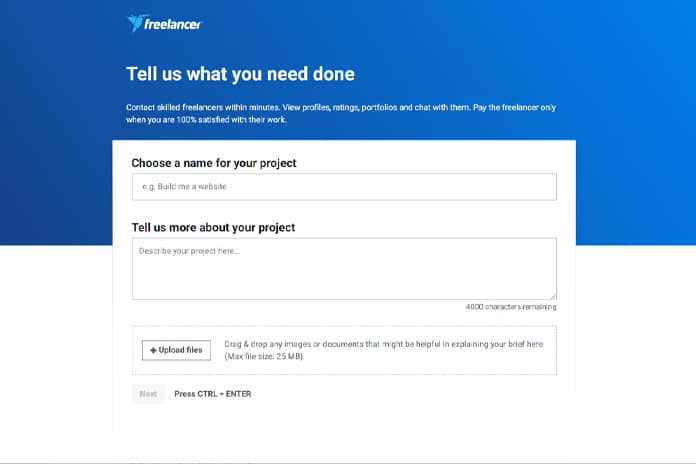 You can post a project and allow freelancers to find you, or you can browse through their directory of freelancers and pitch your opportunity to those who catch your eye. The only downside is that the site is for freelancers of all stripes, so there are a lot of non-writing jobs that may not be relevant to you as you filter through the results.
Usually, this site would fall under the heading of a content mill, but it's a bit different. While they have a mill-like order system, they also allow writers to post content they want to sell, and you can buy it directly from them via the marketplace.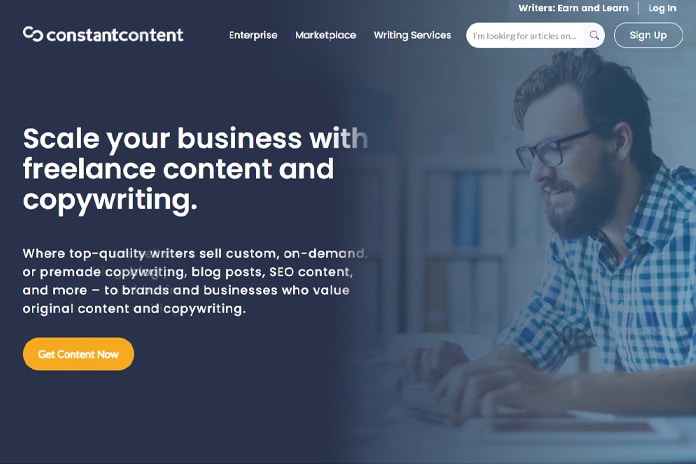 You can also work with a writer individually if you like their work. It is, essentially, every way you can hire a writer except a traditional job board, and even then, it's close enough that you can still use it similarly by posting projects in place of a job listing.
Writers Work is another option for posting a job listing on a hub where 100% of the applicant pool is writers. It's free to post a job, though you can contact them directly to pay to promote a job listing above the rest. Listings stay live for 30 days, though you can extend them or post a new one when it expires.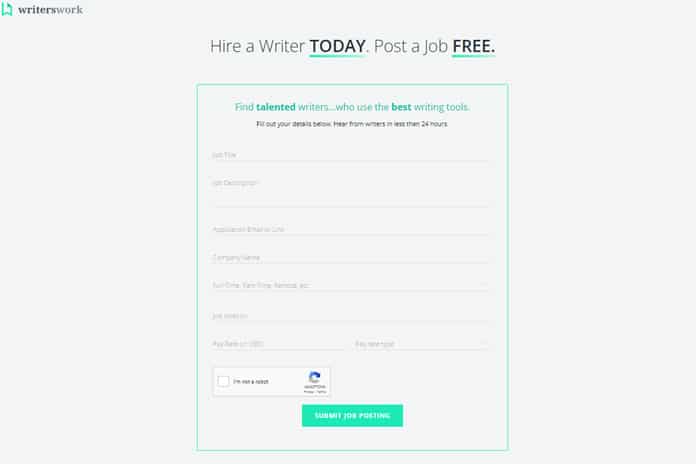 The trick is that this platform also offers writing tools and, to an extent, expects its writers to do their work through the platform. This limitation isn't to everyone's liking, so the writer pool is smaller than you might want.
Scripted is another of the most popular writing-focused freelance hubs on the internet. It's pretty similar to a content mill model without quite being the same. Writers have to apply to work for the platform, and businesses can post jobs to find them.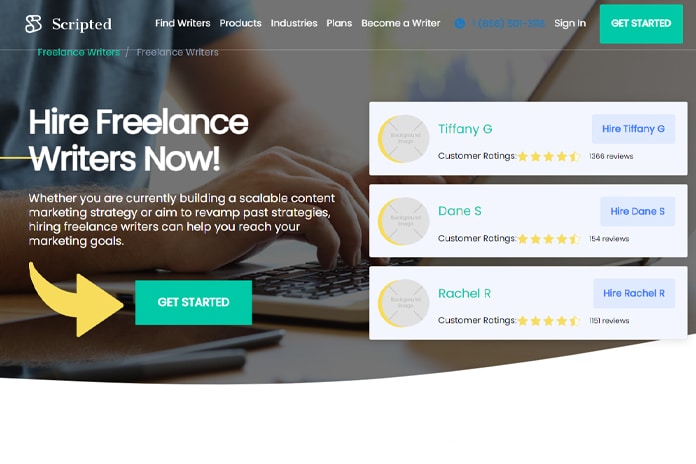 Pay rates are pretty standardized, guaranteeing that the writer is paid within five days after their work is accepted because you pay the platform in advance.
AFW is a freelance writing resource and job board. It is mainly aimed at novice writers, though it increases to intermediate writers if you're patient. It's an excellent place to find new writers you can train to your style and have them grow their careers with you.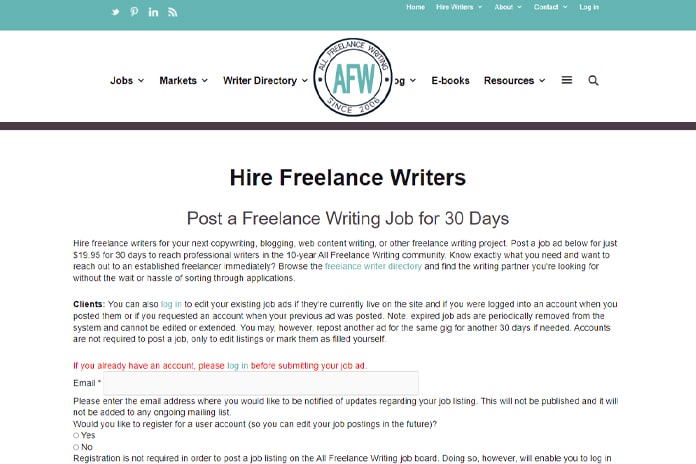 You can post a job on their job board for 30 days for the relatively low price of $20, or you can browse the directory of writer profiles and find someone who suits your needs.
This freelance writing site specializes in low-priced, generally novice writers. They advertise up to $50 per article for writers' fees, which means the cost you pay will be relatively low.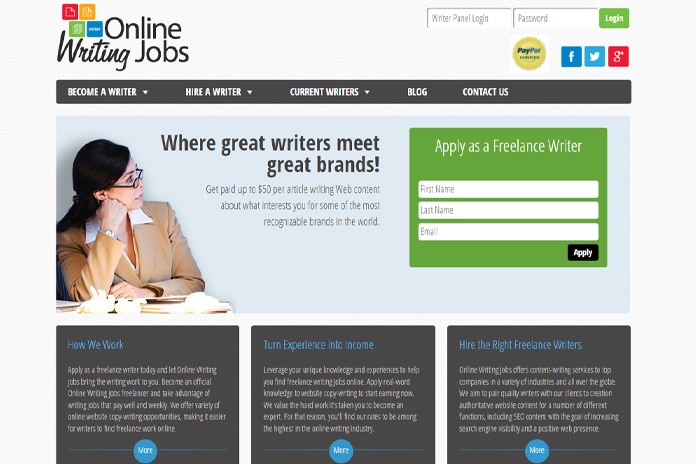 You aren't likely to get top-tier quality from the writers you find here, but it can be excellent when you need bulk content to round out a blog.
There's something here for just about any need. PPH is another primarily remote work job board with a significant contingent of freelance writers.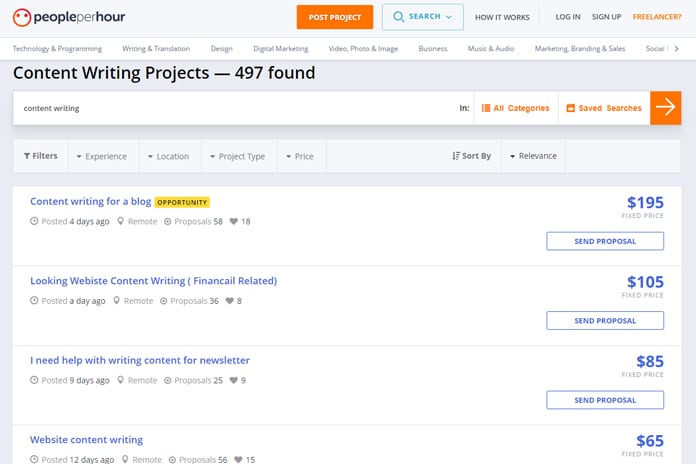 It's much more like a traditional job board, and you can post a project to hire a writer for anything from a single blog post to an ongoing contract.
20: Content Mills
To round out the list, we have to make mention of content mills. Sites like iWriter, Textbroker, and Writer Access remain relatively low-cost options to buy content. Your ability to hire a writer directly is limited, and you're going to be paying a commission to the host site with every project.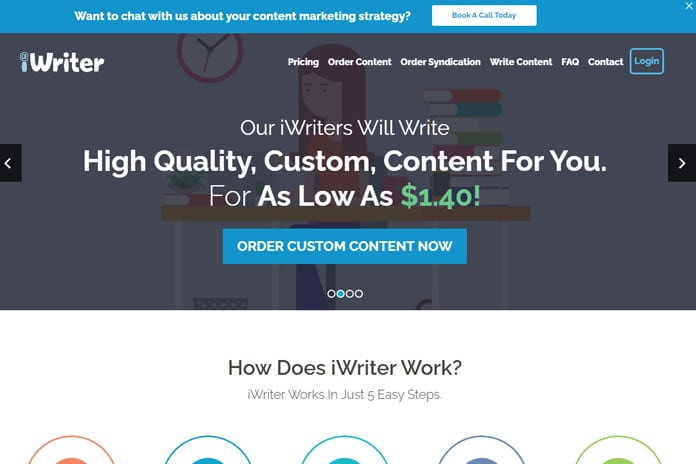 They are also quite protective of their writers, so you won't have the option of hiring them outside the website. Still, if you need decent content quickly, a content mill can be an excellent way to get it. We don't recommend it for permanent or ongoing writing needs.
Do you have any websites that we missed that you would like to recommend to our readers? Did any of these help you find a new writer to hire? Please share with us in the comments section below!