In the far-off days of yore, when the internet was young, affiliate marketing was the wild west. People would do nearly anything to get those clicks and commissions, including paying for ads with their affiliate codes, cloaking links so you never saw them, and even creating content that had nothing at all to do with their product, but adding the link anyway.

These days, affiliate marketing is much, much harder. It's almost entirely focused on high-quality, authoritative content marketing. Paid ads can't be affiliate links, cloaked links are enough to tank a site's SEO, and spam just doesn't rank in the first place.
Creating affiliate content can be hard work. You have to create content that is deep, detailed, authoritative, and compelling, while recommending a product in a way that convinces users to not just buy the product eventually, but to click your link and do it now. All of that, just to earn a few dollars (or a few cents) on the sale.
While there's a ton that goes into affiliate marketing, from niche choice to affiliate networks to commission structures, it will all, sooner or later, center around content marketing. The content you produce is the core of your affiliate promotion.
There are many types of content you can use for affiliate marketing, but here are the ten best.
1: Individual Product Reviews
The first and, by far, the most common kind of affiliate marketing content is the product review. Virtually everyone who buys anything these days will spend some time reading reviews to research their purchase, so your goal is to utilize SEO to position your review as one of the top reviews for a given product.
Some companies do this by picking a niche and reviewing everything in that niche. Some pick a single product and review every possible competitor for that product. Some pick broad categories and review pretty much anything, like WireCutter. Generally, a smaller focus is a better place to start for more SEO weight and emphasis.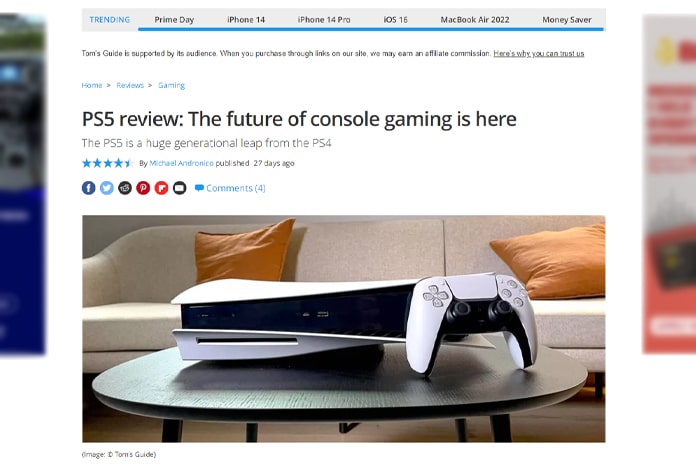 Product reviews need to be written to be honest and non-commercial and should be as evergreen as possible.
You want to avoid mentioning specific deals or pricing because that information can change. Instead, focus on things like the pros and cons of the product, use cases, and how it stacks up against the competition.
2: Product to Product Comparisons
In many cases, when someone is shopping for a particular kind of product, they narrow down their search until they're deciding between two or three of the best options in the niche. This is an opportunity. These people want to see 1:1 comparisons between the top two products, and that's a very easy thing to provide.
A good framework for this kind of content is similar to a single product review, except with a comparison table. This table will show all of the vital stats of the products next to each other, with an easy graphical way to represent which one comes out on top in any given category. You can then have additional text with a more editorialized rundown of the benefits of one or the other, how meaningful the differences are, and which one is better for which kinds of use cases.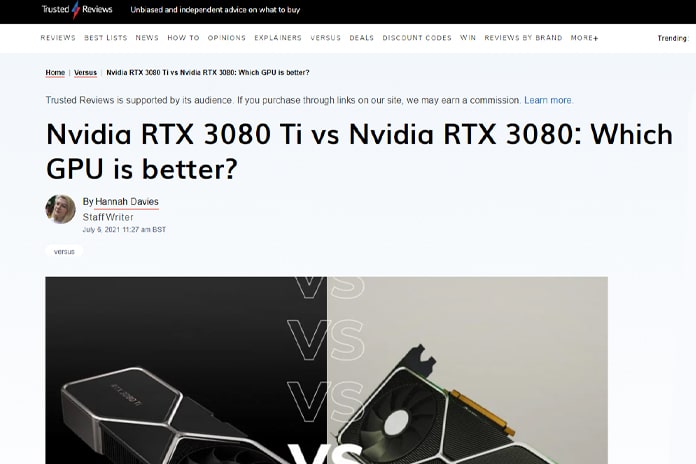 Here's an example of a comparison between two high-end graphics cards. Notice that each section has a defined focus and discusses different aspects of the products, and the post wraps up with a comparison table between the two products, with all of the vital tech specs as well as custom test results.
3: Product Category Top Lists
When you consider the product purchase decision funnel, you have individual reviews at the bottom and 1:1 reviews a step above it, but what's above that? General product category top lists work wonders here.
The concept for this kind of content is a rundown of all available options – or at least the five or ten best options for a given product – and a relatively brief summary of each. The meat and potatoes of these pages is a comparison table, showing all of the pros and cons for each. You often see these tables auto-generated on Amazon product pages, and similar tables appear on many review sites.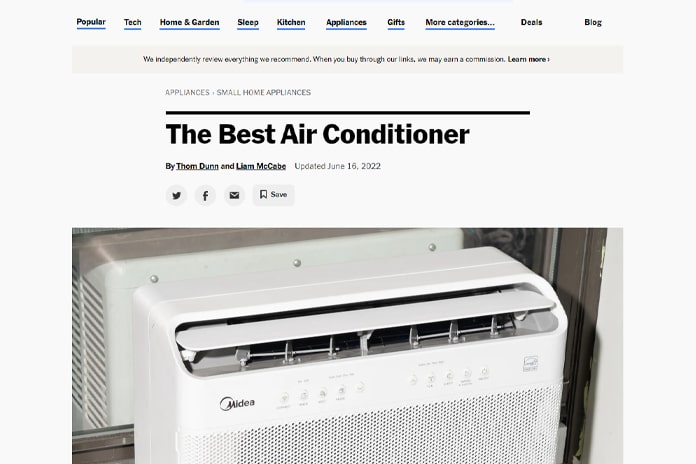 Here's an example of such a page from Wirecutter for A/C units. This page has the top A/C units for any given situation, and a comparison rundown at the end, along with links to more detailed reviews for each of them. It's a good place to start for someone shopping for the product to see what kinds of options are out there and gives them something to go off of when they're looking for alternatives.
4: Topic Resource Pages
A topic resource page, rather than focusing on a given product or category of products, focuses on a topic or task that a user might want to complete.
For example, say you wanted to start a food blog. You might look up the topic, and you'll encounter tutorials that will give you plenty of information on how to get started. More importantly, many of these guides will have recommendations for what kinds of products and services you can use along the way, such as:
A web host.
A CMS like WordPress.
Recommended plugins like WPRM for recipe management.
Recommended services for editing images like Canva.
An excellent example of this comes from Minimalist Baker, a successful food blog.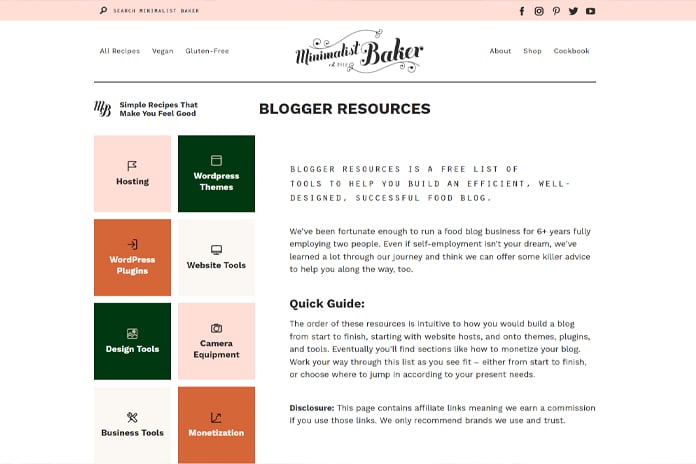 Their own blog stands as a testament to the success of their recommendations, lending credence to their suggestions. They give you ideas for everything from conversion optimization tools to photography equipment to business tools. All of it, of course, is affiliate links.
5: Product Tutorials and Usage Guides
Sometimes, users might not be sure how they would use a product. Other times, they might not know what the purpose of a product even is. These are what we in the business call "opportunities."
A product that has complexity to it can be made simple and more attractive through a usage guide or an instructive post. These show a user how they could potentially use an item, which lets them imagine if they could work it into their lifestyle and decide if it's something they might want to buy.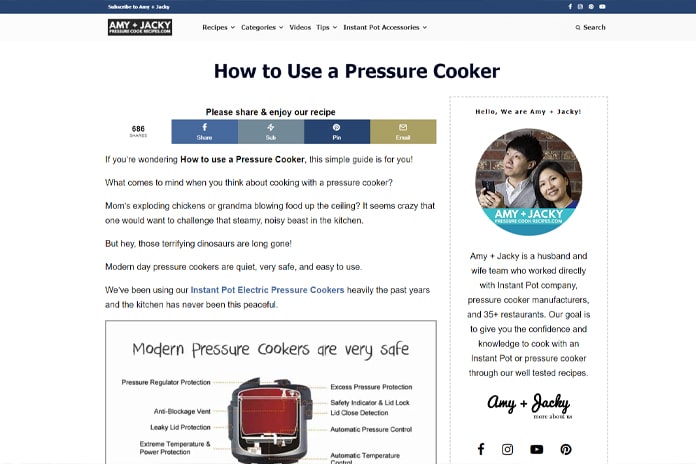 This is most useful for products that may be intimidating or complicated. A commonly-cited example is an Instant Pot. Pressure cookers have a bad rap as dangerous devices, and while they technically are, modern pressure cookers are safe and easy to use. Showcasing that ease of use can help convince someone that actually, maybe they should buy one.
Similarly, a usage guide or tutorial for a specific task can showcase how a given product can be used to achieve it. A common technique in sales is to identify a problem, discuss the problem in detail such that users searching for the problem can find your post, and then offer two solutions: the hard, complicated, DIY way of doing it, or the way that is simple and easy but requires clicking on this convenient affiliate link and buying a product to do it. This can work exceptionally well as a way to convince users the easy way is the way that earns you a bit of money.
6: Deep-Dive eBooks
Some topics are too deep and detailed for a single blog post or a handful of blog posts to cover it in its entirety. Sometimes, you might have much more to say about a specific item or a specific niche than you can fit in a blog. While you can divide up the content and hope it works out for you, oftentimes, you end up cannibalizing your SEO or muddling the issue. Your general-purpose SEO content should usually be focused on the conversion, so the added details end up being cut.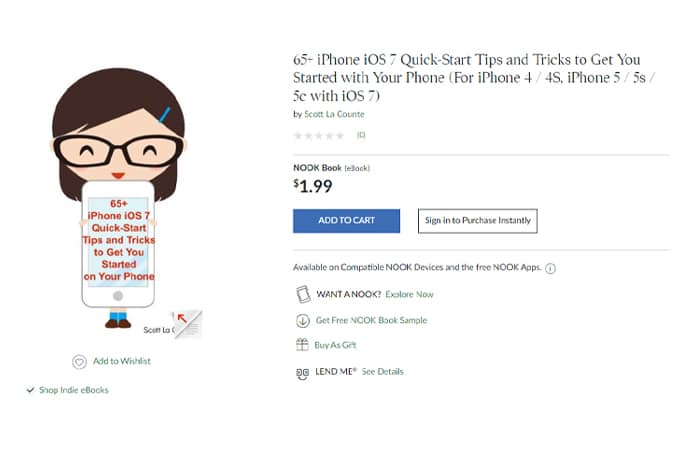 This is where eBooks come in. Producing an eBook can be a great way to go into a much deeper dive on the topic and give users a ton more information. You also may have the opportunity to sell your eBook in the cases of larger and more comprehensive guides. For example, you might sell UV flashlights; your website has individual reviews for the top 10 products, comparisons for the top five, and a roundup post for all of them.
You can combine all of those, plus additional information, into a "2022's Best UV Flashlights" guide. As an added bonus, you may be able to sell the eBook or "sell" it for an email sign-up, and you can update it every year (even if the core information doesn't change).
7: Gift Guides
Gift guides are often similar to either the deep dive eBook, the category top list, or the topic resource page. You pick an occasion, a focus, and write a gift guide for it.
For example, you might pick Father's Day Gifts for a Tech-Focused Dad, Craft Gifts for Birthday Moms, or Christmas Gifts for Australian Ex-Pats Moving from Lithuania to Singapore On December 18th. You know, nice and broad categories.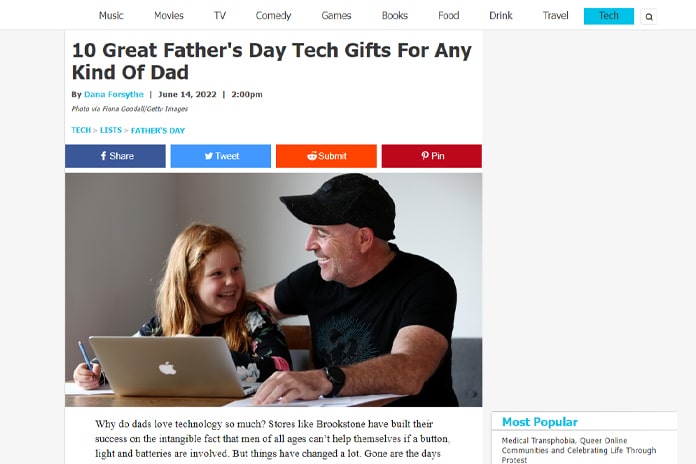 The goal of these is essentially the same as product top lists or category lists, except they have the opportunity to be broader in a way that wouldn't work for SEO on a typical blog post. They're more to give a user ideas of what they can shop for, with links to reviews or to buy the products. They can be hyper-focused on a specific holiday, a specific buyer persona, or another niche you want to experiment with stepping into, as well.
8: Product Q&As or FAQs
If you look at any Amazon product page, you'll see a Q&A section. This section is populated with questions that real people ask, and the answers are filled in either by the seller or by other people who have bought the product.
This is the kind of goal you have for making a product FAQ, except instead of being a biased seller or a rando who may not align with your use case, you have an "unbiased" opinion. You can develop a Q&A or a FAQ for a given product, coming up with questions and answering them yourself.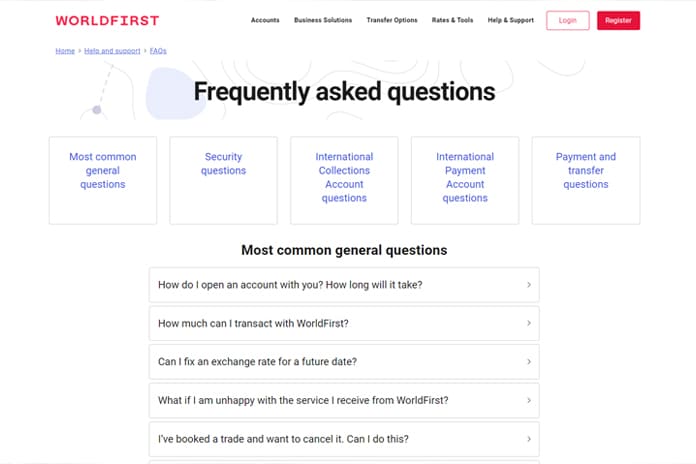 There are two excellent benefits to an FAQ-style document. The first is that you can take advantage of the FAQ Schema meta tags to get additional SEO value out of the post. The second is that real users will ask additional questions, and you can add those questions and your answers to the document to make it bigger and better.
It's a great way to create a valuable living document full of useful information, and of course, some product links.
9: Deal Directories
One of the potentially best converting pieces of content you can create is a directory of deals. This is a page that is entirely focused on monitoring prices and watching for price drops, coupons, sales, and other deals that a user could take advantage of to buy what you're promoting when it's cheaper.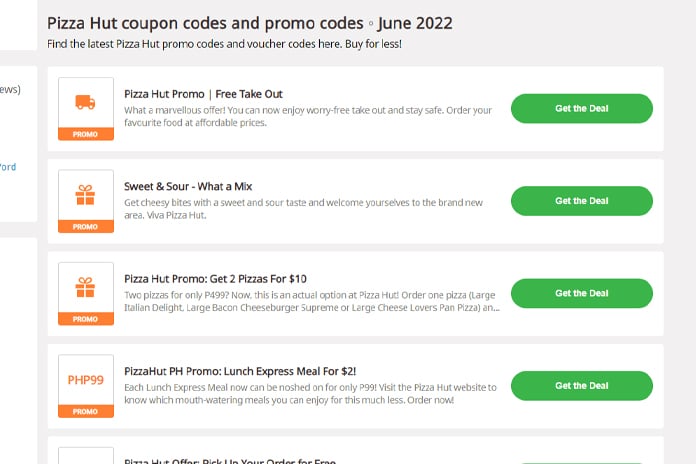 There are two downsides to this kind of content.
The first is that, since it's focused on products that are on sale, you're generally getting lower commissions from it than you would when you sell the content at full price.
The second is that, since it's a very time-sensitive kind of content, you need to either have a lot of automatic scraping and data harvesting set up, or you need to put a ton of time into managing it.
You also have a lot of competition from existing coupons and deals sites, which can be difficult to get around. Still, as an add-on to your primary, more editorial content, it's not a bad way to convert people looking for deals.
10: Consumer Warnings
A final kind of affiliate content is a sort of content that utilizes reverse psychology or outrage. Watch for scandals, problems, or issues with products in your niche. Then, write content discussing the problem.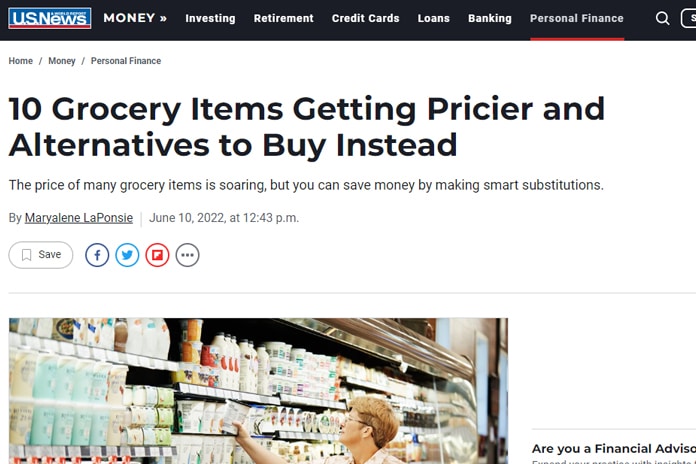 This can go one of three ways, usually:
"This isn't as bad as people make it sound, and you'll probably be fine buying it."
"This is a deal-breaker, and you should avoid it; here's what you can buy instead."
"Here's a frank discussion of the issue. You can choose for yourself between the options I present."
The value of this is that it catches the negative sentiment and the people who, when scared of a problem with a product, seek alternatives.
All ten of these kinds of content – except maybe the deal directories – can be produced by talented freelance writers. Lucky for you, I know just where you can find some.