Money makes the world go-'round, and nowhere is that quite as true as in the world of freelancing.
Freelancing is a tricky kind of career. It lacks many of the traditional protections and conventions of standard employment, up to and including established means of being paid. Freelancers are also responsible for their own taxes, investments, and benefits, which means the amount of money they get on the surface isn't really what they're actually earning.
Add to this a globalized economy, and you quickly realize that you may have to pay people in other countries, deal with all sorts of obscure financial regulations, and generally jump through hoops to work with those excellent freelancers you've come to rely upon for your business.
So, whether you're a freelancer researching how you should get paid, or a client looking into different options, let's run down the list of the best payment methods freelancers may enjoy.

Before we begin, though, one caveat: some freelancers have specific situations, and this list might not be universal. In particular, freelancers in certain geographic regions may not have access to some items on this list or may simply prefer others. Always talk to your freelancer or client and try to work out whatever method is best for both of you.
PayPal
It's hard to label PayPal as the best of anything, but there's no denying that they're both a massive financial institution and the standard go-to for the many freelancers and businesses that work with them.
PayPal has a few advantages. They're old and well-known, so there's some amount of trust and recognition in using them. It's very easy to set up an account and link it to a bank, and processing is generally quite quick, so payments can be made available in short order, often less than a day. PayPal also offers a card that works similarly to a debit card, so freelancers being paid using the service can use that card to shop for groceries and other essentials, though it's not necessarily universally accepted.
PayPal also functions quite well for freelancers who don't want to give out too much information. Clients can send payments when all they have is an email address, and it works fine that way.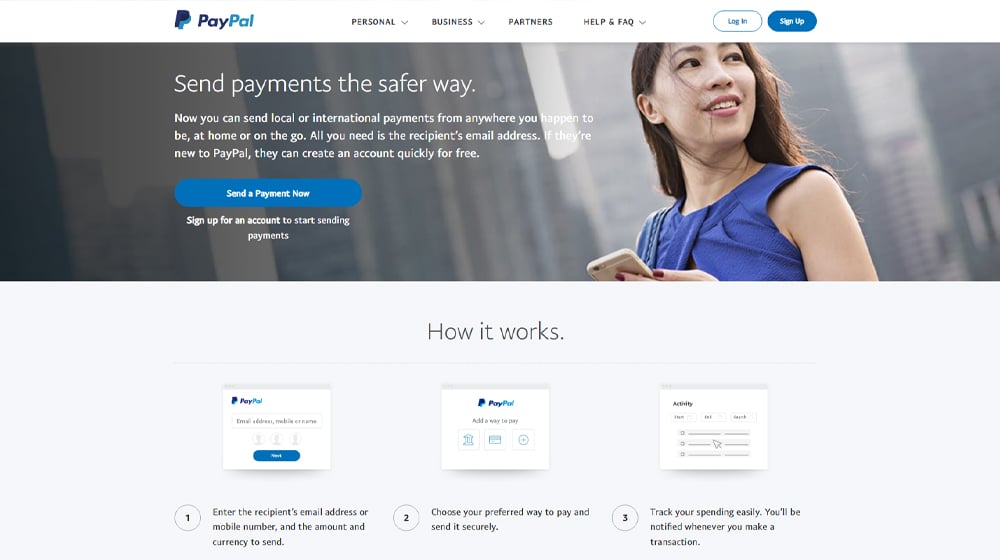 On the other hand, PayPal is difficult to work with, they change their policies frequently, and they can be a roadblock to certain kinds of freelancing. Freelancers need to know how to create and send PayPal invoices for maximum accountability. They also need to know what PayPal's rules are with regards to acceptable use. For example:
Certain kinds of industries and gig work aren't acceptable to PayPal.
Using "friends and family" monetary transfers to avoid fees is a violation of PayPal rules.
PayPal protection only works when the platform is used properly.
Misuse of PayPal can result in an account being frozen or closed out completely, and it can be distressingly difficult or even impossible to recover funds from a locked account. It's always best to use them as an intermediary, not a bank.
Finally, PayPal fees can be fairly steep compared to other platforms, and those fees are generally taken out of the payment; the freelancer needs to account for fees reducing the amount they're receiving, though those fees can be a tax write-off.
Payoneer
Originally created as a competitor to PayPal, Payoneer has been growing slowly over time and has been broadly adopted as a payment platform for freelancers in many locations. It's not the most popular, and there are still plenty of people who have never heard of it, but they're reliable and trustworthy to the extent that any payment processor is these days.
Payoneer is a common international payment processor, making it a common choice for freelancers in areas outside of the US.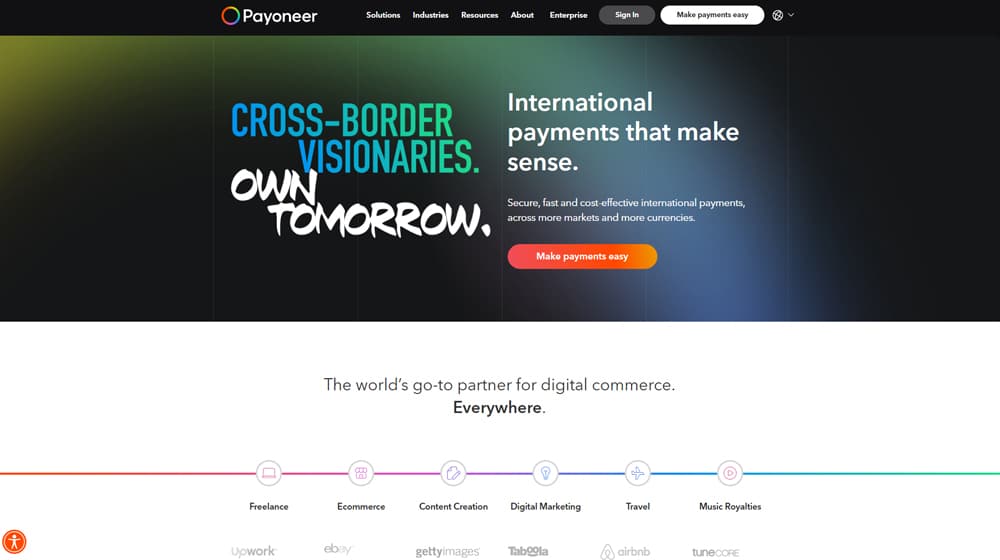 There are a few benefits to Payoneer. They enable free money transfers between Payoneer accounts, though there's a fairly steep fee for putting money on or taking money off of the platform. It's also much slower than PayPal, with funds taking five days or more to reflect on a bank statement.
There are also a lot of negative reviews of the service. In particular, many people find that their customer service is woefully lacking. This isn't exactly atypical of financial institutions in general, but since Payoneer isn't a bank, you lack some of the backup enforcement provided by law when working with banks. It's very much a platform where, if it works, it works smoothly, and you'll never have an issue. On the other hand, if you have an issue with it, it becomes a nightmare to resolve.
Have you used Payoneer or any of the other payment options on this list? Feel free to leave your stories, recommendations, and experiences in the comments to help others avoid the problems you've faced.
Google Pay
Google's payment processor, a successor and partner to Google Wallet, is one of the massive pantheon of Google services that freelancers will brush up against whether they like it or not. Google, as a massive global company, is certainly well-recognized, if not well-trusted by many these days.
Google Pay is similar to PayPal in some ways. Most notably, it's very easy to set up and get running with as little as an email address and phone number. It's available on both mobile devices and PCs, so it's applicable to freelancers who work primarily in mobile and more. It's also international, though their list of available countries isn't all-inclusive. One interesting feature is the ability to send an invoice over SMS and be paid directly through it.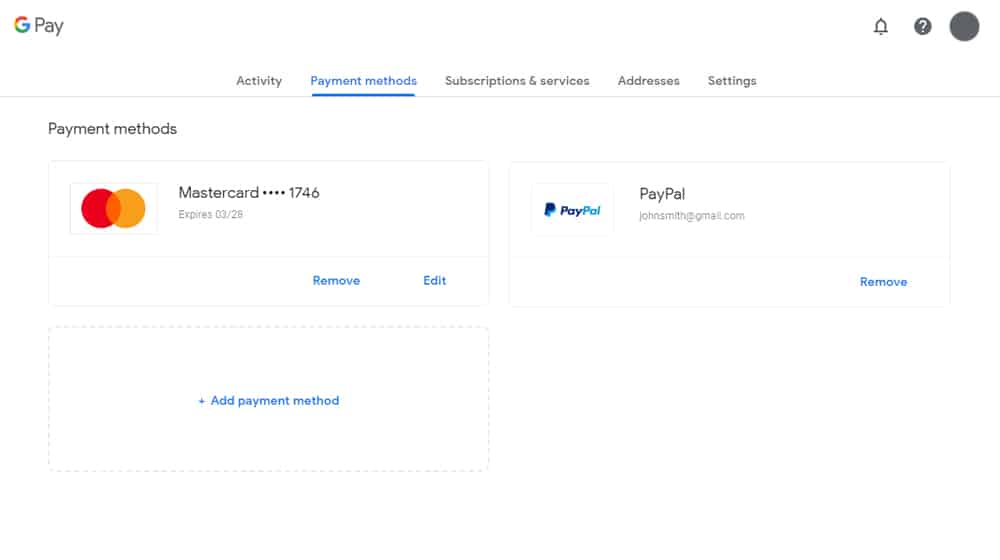 Google's payment processing is relatively quick, and you can access your money from Google Pay directly or use it with a debit card in as little as 24 hours. Transfers to a bank take longer, around five days, though it varies depending on the volume of transactions Google happens to be processing on any given day.
As a freelancer, Google Pay is also good in that it doesn't charge you fees when you're getting paid. You have fees on debit card transfers, though.
Square
Square is very common in many areas, though international freelancing may not have access depending on where you're working. It's most common for small businesses but can be used by freelancers, though they miss out on many of the biggest benefits of using the system (like an inexpensive PoS system.)
Square can be very good for certain types of freelancing but may be less than ideal for others. It tends to work best for freelancers who sell items rather than regular service providers, but again, it's flexible enough for anyone. It has a very useful invoicing platform, too, which can be hugely beneficial for freelancers who are just starting to move away from mills and platforms.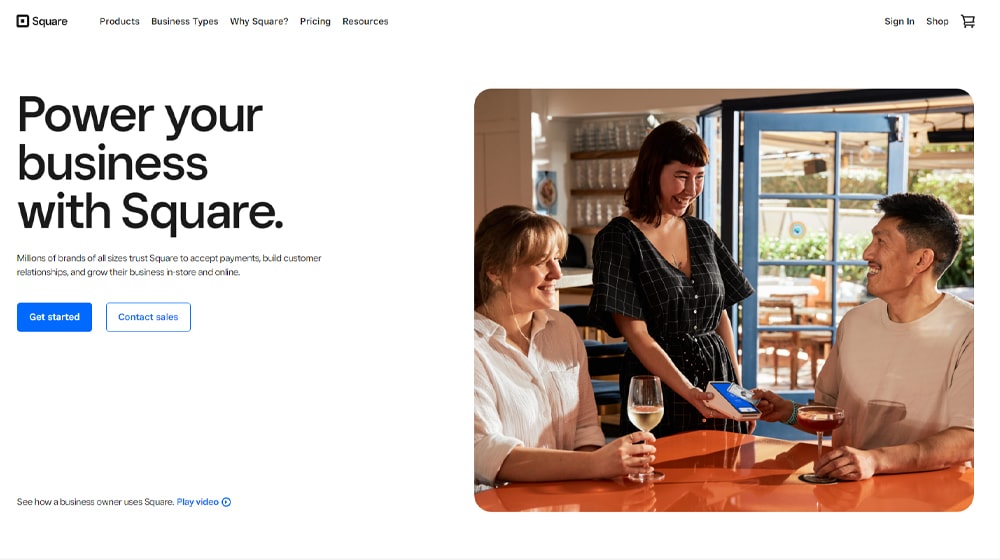 Unfortunately, many of the more advanced and useful features of Square are either not applicable to freelancing or require a paid version of their accounts, which can add enough of a fee ($20 per month for the basic plan) that it might not be worth it when you're starting out.
Like PayPal, Square can close down accounts they deem high risk, either because the industry is high risk of fraud or chargebacks or because they don't want to deal with a legally gray area. You can see a full list of their prohibited industries here. Of particular note is anything adult content adjacent, "occult materials," and anything they deem "high-risk products or services."
QuickBooks Self Employed
QuickBooks is a very common business accounting platform, but it's largely not aimed at freelancers. Luckily, they have a service called QuickBooks Self Employed made for just that audience.
QBSE drops many of the accounting features that are either overkill or unnecessary for freelancers and the generally self-employed. In exchange, it provides a basic invoicing system, including the ability for clients to pay using ACH or credit cards. It also helps to manage taxes (at least at the federal level), track deductions, and categorize expenses.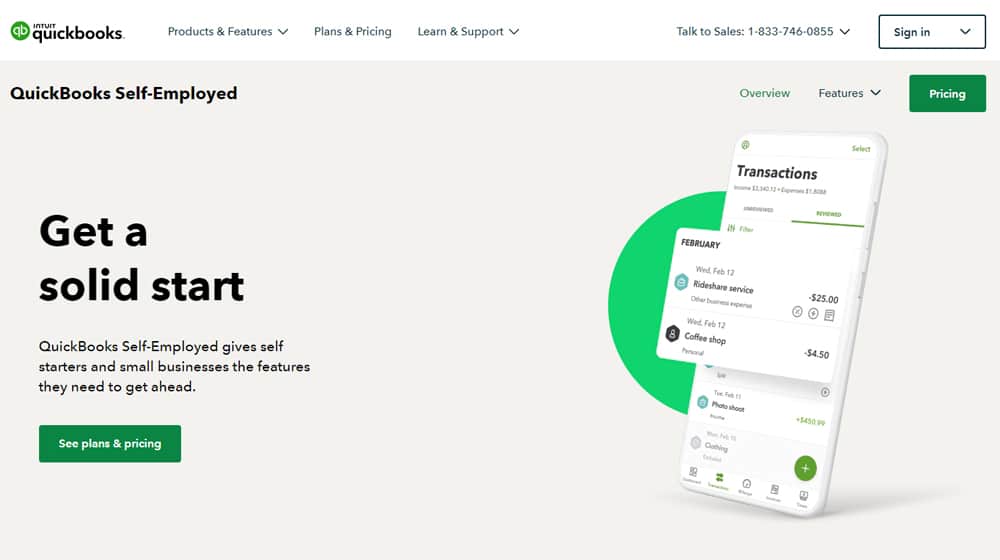 Invoices can be charged by the item, by the hour, or at a flat rate. There's no support for sales tax, but it does remember information about people you've invoiced before, so it can help speed up repeated invoicing. There's also a fee attached, while minor, starting at $7.50 per month plus a transaction fee depending on how an invoice is paid.
ACH Transfers
ACH stands for Automated Clearing House. A clearing house is a financial institution dedicated to facilitating the transfer of funds, working sort of like escrow for financial institutions. While this might not seem like it's required in today's modern financial world, it's deeply integrated in how the world does business. Every monetary transfer from bank account to bank account is generally performed via an electronic funds transfer and facilitated by an ACH.
ACH transfers are just bank-to-bank transfers. A traditional employer paying via direct deposit (rather than a paper check, for example) is doing so via ACH. As a freelancer, you can have ACH transfers set up for your account.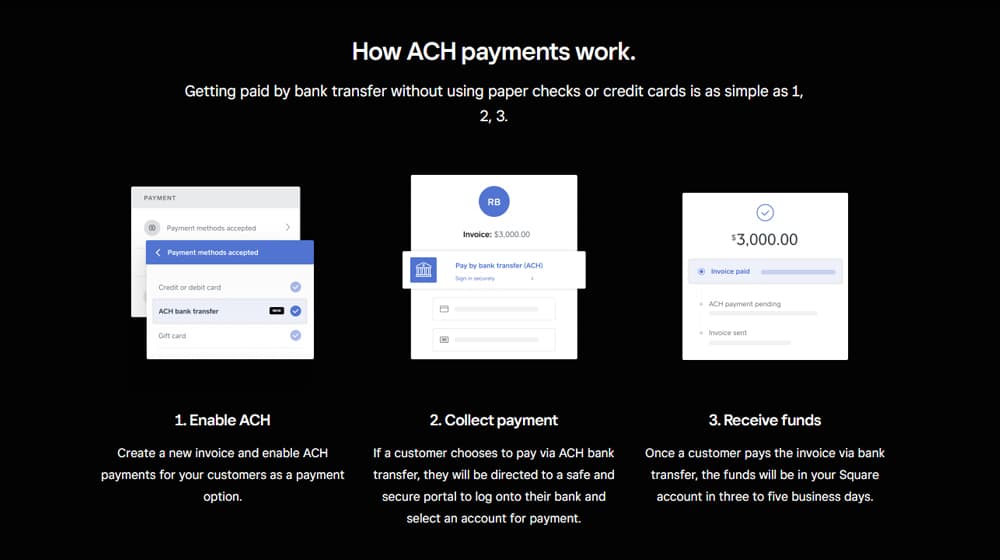 One significant downside to this is you have to trust your client with your banking information; they need your account and routing numbers to set up an ACH transfer or recurring transfers. It can also be slower to settle than some other kinds of transfers, and it's very limited to pretty much just US banks.
On the other hand, for reliable, regular payments from clients for ongoing work, it can be a viable option. It also usually offloads the fees to the client doing the paying rather than skimming your paycheck. Just make sure you know what you're getting into, or use a third-party system like Stripe to facilitate.
Venmo
Venmo is a very common money processing system, quickly taking up the role that PayPal once had for freelancers and small-time freelancers. Of course, it's owned by PayPal, so it's really just more of the same; the company expanding back into a niche they grew out of.
More importantly, Venmo offers a Business account system for freelancers to act as service providers, with specific benefits like recurring payments, low transaction fees, and the ability to use it as a contactless payment method.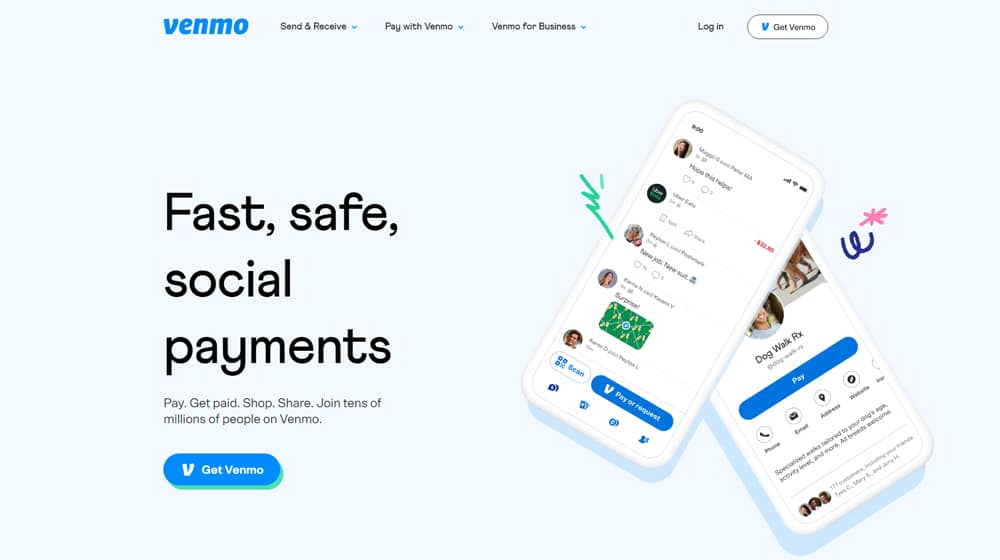 Some people complain that Venmo isn't appropriate for freelancers, but truthfully, they work just fine as long as you're competent at tracking your income for tax purposes. Venmo will even send out a 1099-K with your information if you pass the reporting threshold.
Another peer-to-peer option, Zelle, is also available. Zelle is a direct bank-to-bank transfer system, though, so it requires your banks to both be enrolled in Zelle to use it properly. Otherwise, you're back at ACH transfers again.
Your Favorite Option
There are, no joke, hundreds of other payment options out there you can use as a freelancer. Some of them are decidedly better than others, of course. You want to stay away from the methods typically used for fraud, like wire transfers or cashiers' checks. These can cause your bank to freeze your account or make your money unavailable for an extended period while they figure out what you're doing.
You might also prefer to use specific methods like Skrill, Remitly, or Payline, depending on where you and your clients are located in the world. For example, Remitly is a hugely common payment processor in India, and Indian freelancers are highly likely to have an account set up, but people outside of India are a lot less likely to use it.
This list is far from complete. If you're interested in adding to it, let me know about your favorite payment method in the comments below.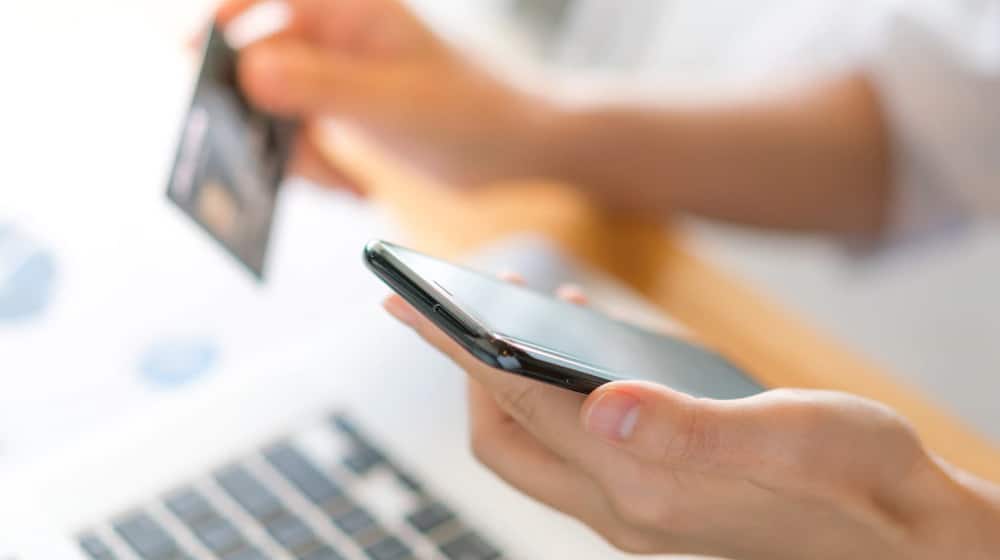 If you're a client looking for talented freelance writers, or if you're a freelance writer looking for a reliable client, you've come to the right place. I've launched my job board to connect trustworthy clients with reliable freelancers, and I'm excited to see it take off as you fine folks start to use it. Post a job, find a job, and learn more about the ins and outs of freelancing in my blog!