Recently, we wrote about whether or not it's a good idea to have a contract between yourself and your freelance writers. The short answer is yes, you should. The longer answer is in the full post, found here, which gives you a rundown of all the reasons why you would want a contract, as well as some tips for using them.
Did you know that it's not just the existence of a contract but the terms of that contract that can make or break a deal? Usually, it's on the writer's end; they present you with a contract, and if the terms are acceptable, you sign it. Of course, there are always cases where the company has the contract, and the writer is free to take it or leave it.

What we've done here today is found five templates for contracts that you can either use as-is or customize to terms more acceptable to you and your writer.
Contract law is specific and tricky, but it's not as scary as many people think. A "contract" really can be as simple as a few lines on a page saying that the writer agrees to write content by a deadline, and the employer agrees to pay for that content. Everything else is details that end up added to contracts over time when one party or the other tries to abuse the contract.
If you and your writer trust each other, a contract is just an insurance policy that, once signed, will largely be forgotten by both of you. On the other hand, if disputes arise, that contract may become the centerpiece of a small claims court decision. That said, you don't need to hire a contract lawyer to write up a contract for you; there are plenty of templates and services online that can handle it.
We'll give you a rundown at the end of this post, as well.
Template 1: Letter of Agreement from Wise
A letter of agreement is basically a contract with less information in it, less formality, and consequently less enforceability. It's usually used once you and your writer have negotiated terms and serves to outline those terms and agree to them formally, as opposed to a handshake and verbal agreement (which is harder to enforce legally.)
This letter of agreement template is short, sweet, and to the point. It outlines what you need to fill out to have your agreement signed and hopefully can be put aside. It's also designed for single projects rather than ongoing work, so use it accordingly.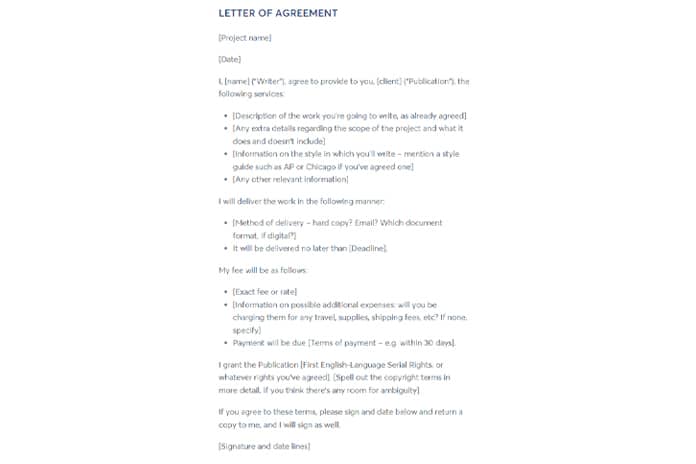 Here's the page it comes from, and here's the template:
[Project name]

[Date]

I, [name] ("Writer"), agree to provide to you, [client] ("Publication"), the following services:

[Description of the work you're going to write, as already agreed]
[Any extra details regarding the scope of the project and what it does and doesn't include]
[Information on the style in which you'll write – mention a style guide such as AP or Chicago if you've agreed to one]
[Any other relevant information]

I will deliver the work in the following manner:

[Method of delivery – hard copy? Email? Which document format, if digital?]
It will be delivered no later than [Deadline].

My fee will be as follows:

[Exact fee or rate]
[Information on possible additional expenses: will you be charging them for any travel, supplies, shipping fees, etc.? If none, specify]
Payment will be due [Terms of payment – e.g., within 30 days].

I grant the Publication [First English-Language Serial Rights, or whatever rights you've agreed]. [Spell out the copyright terms in more detail if you think there's any room for ambiguity]

If you agree to these terms, please sign and date below and return a copy to me, and I will sign as well.

[Signature and date lines]
See? Simple, easy to fill out, and ready to go.
Template 2: Kansas Press Association's Journalist Contract
This second template is aimed specifically at journalists submitting content to newspapers, but it can be adjusted to work for any more ongoing freelance relationship. You can find a PDF with the full template here.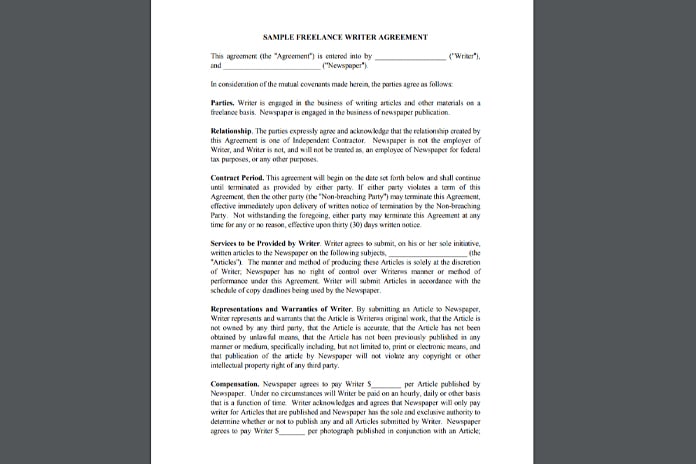 This is a more formal template than the letter of agreement above. It outlines who the parties involved are, the relationship and contract period, services provided, compensation, and so on. It will need to be a little customized (fix the = in the services and warranties sections, fix the date being 200X), and, of course, if you're not a newspaper, you'll want to edit that as well. But, it's a perfectly functional template to use as a base for ongoing work.

The other potential thing you may need to change with this template is the description of work. Since this is a journalist's agreement, it discusses work being created at the discretion and initiative of the writer and submitted as they feel appropriate. If you're trying to hire writers to produce work according to your guidance, or you want more consistent submissions, you'll need to change this.
Template 3: Leonard Hill's Freelance Writer Contract
This template is a document that was written by a personal injury lawyer and uploaded to Docracy four years ago. You can find it here. This is roughly the same level of formality as the Kansas Press contract above, but it's aimed more at a "typical" freelance writer agreement rather than a journalist agreement. In it, the client supplies topics, and the writer creates content based on them. Of particular interest in this template is a section about confidentiality and a section about copyright, both of which may be important depending on your work.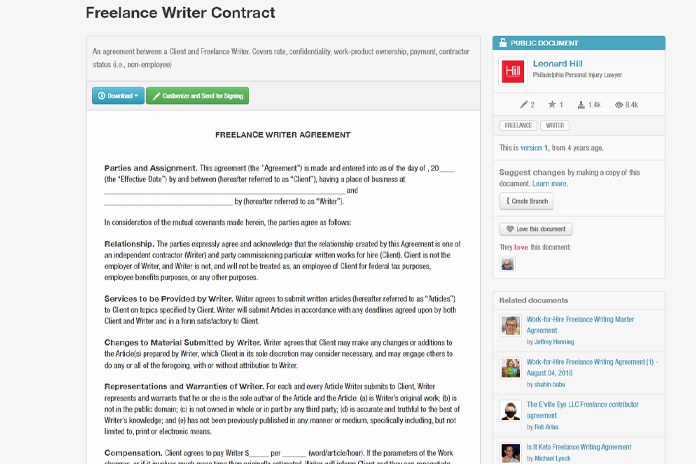 Here's the text:
FREELANCE WRITER AGREEMENT

Parties and Assignment. This agreement (the "Agreement") is made and entered into as of the day of , 20____ (the "Effective Date") by and between (hereafter referred to as "Client"), having a place of business at ___________________________ and ________________________________ by (hereafter referred to as "Writer").

In consideration of the mutual covenants made herein, the parties agree as follows:

Relationship. The parties expressly agree and acknowledge that the relationship created by this Agreement is one of an independent contractor (Writer) and party commissioning particular written works for hire (Client). Client is not the employer of Writer, and Writer is not, and will not, be treated as an employee of Client for federal tax purposes, employee benefits purposes, or any other purposes.

Services to be Provided by Writer. Writer agrees to submit written articles (hereafter referred to as "Articles") to Client on topics specified by Client. Writer will submit Articles in accordance with any deadlines agreed upon by both Client and Writer and in a form satisfactory to Client.

Changes to Material Submitted by Writer. Writer agrees that Client may make any changes or additions to the Article(s) prepared by Writer, which Client in its sole discretion may consider necessary, and may engage others to do any or all of the foregoing, with or without attribution to Writer.

Representations and Warranties of Writer. For each and every Article Writer submits to Client, Writer represents and warrants that he or she is the sole author of the Article and the Article: (a) is Writer's original work; (b) is not in the public domain; (c) is not owned in whole or in part by any third party; (d) is accurate and truthful to the best of Writer's knowledge; and (e) has not been previously published in any manner or medium, specifically including, but not limited to, print or electronic means.

Compensation. Client agrees to pay Writer $_____ per ______ (word/article/hour). If the parameters of the work changes or if it involves much more time than originally estimated, Writer will inform Client, and they can renegotiate the rate. Writer will invoice Client on the last business day of each month for completed Articles that month. Payment shall be completed by Client to Writer within seven (7) business days upon receipt of invoice.

Taxes. As an Independent Contractor, Writer shall be responsible for the reporting, deposit, and payment of any and all federal, state, and local taxes, including but not limited to income taxes, FICA taxes, and unemployment taxes incidental to the performance of, or payment under this Agreement.

Contract Period and Termination. This agreement will begin on the date set forth above and shall continue until terminated in writing by either party. Either party may terminate this Agreement at any time for any or no reason, effective upon thirty (30) days' written notice.

Confidentiality: Writer acknowledges that he/she may be furnished or may otherwise receive or have access to information which relates to the Client's past, present, or future products, vendor lists, creative works, marketing strategies, pending projects and proposals, and other proprietary information which gives the Client an opportunity to acquire an advantage over its competitors who do not know or use it (the "Proprietary Information"). Writer agrees to preserve and protect the confidentiality of the Proprietary Information. In addition, Writer shall not disclose or disseminate the Proprietary Information to any third party.

Assignment and Ownership of Intellectual Property. Writer expressly acknowledges that the Article(s) contributed by Writer, and Writer's services hereunder are being specially ordered and commissioned by Client. The parties acknowledge that any Article(s) contributed by Writer hereunder shall be considered "works made for hire" under U.S. copyright law (17 U.S.C. § 101). Client shall be the sole and exclusive owner of all rights and title in and to the results and proceeds of Writer's contributions hereunder, at whatever stage of completion. Client shall have the right to copyright the Article(s) in its own name as author and proprietor thereof, to publish the Article, in any tangible medium of expression, now known or later developed, including without limitation the rights to archive, republish, edit, repackage or revise any Article in any manner as Client sees fit.

WRITER CLIENT

Date: Date:

Name: Name:

Signature: Signature:
As with any contract, make sure to read it thoroughly and make any edits you deem necessary before trying to use it. You always want to know what you're agreeing to!

Note: Just because the contract was written by a personal injury lawyer and not a contract lawyer doesn't make it bad. It's relatively easy to set up a contract and make sure it has all of the relevant components, and a lawyer should have a good idea of how to do so.
Template 4: Non-Disclosure Agreement from Freelancer
Another aspect of freelance writing contracts that can be overlooked is confidentiality. One of the contracts above mentions it, but this is a full, separate agreement specifically for instances where you may need to hire a writer to write about something that isn't yet public knowledge. This frequently happens if, for example, you're gearing up to launch a new product and want marketing copy written without leaking details of the product.
A non-disclosure agreement is a way for a company to pursue their freelancers for damages if the freelancer leaks information that somehow damages the company. In the vast majority of cases, you won't need this; your freelance writers will either be operating off of public knowledge, or your topics aren't going to be confidential in the first place, or your chosen writer won't leak anything. It's still a good idea to have it signed if you have confidential information you need to be written about. Here's the source of this template. Note, as well, that the original version of this template comes from an Australian source, so you may need to adjust it for your location.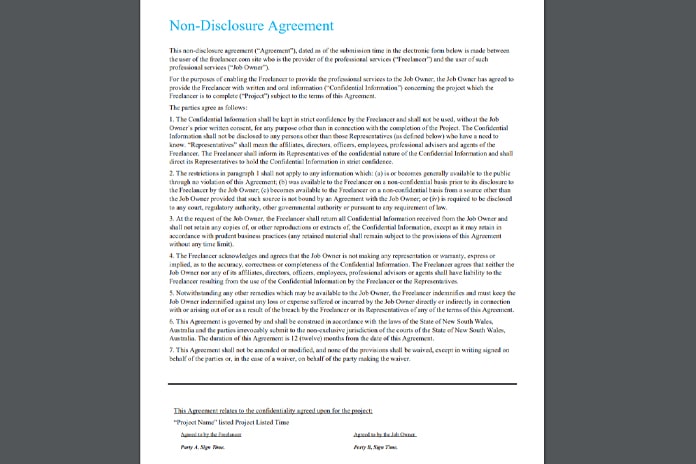 Here's a peek at the template:
This non-disclosure agreement ("Agreement"), dated as of the submission time in the electronic form below, is made between the user of the freelancer.com site who is the provider of the professional services ("Freelancer") and the user of such professional services ("Job Owner").

For the purposes of enabling the Freelancer to provide the professional services to the Job Owner, the Job Owner has agreed to provide the Freelancer with written and oral information ("Confidential Information") concerning the project which the Freelancer is to complete ("Project") subject to the terms of this Agreement.

The parties agree as follows:

The Confidential Information shall be kept in strict confidence by the Freelancer and shall not be used, without the Job Owner's prior written consent, for any purpose other than in connection with the completion of the Project. The Confidential Information shall not be disclosed to any persons other than those Representatives (as defined below) who have a need to know. "Representatives" shall mean the affiliates, directors, officers, employees, professional advisers, and agents of the Freelancer. The Freelancer shall inform its Representatives of the confidential nature of the Confidential Information and shall direct its Representatives to hold the Confidential Information in strict confidence.

The restrictions in paragraph 1 shall not apply to any information which: (a) is or becomes generally available to the public through no violation of this Agreement; (b) was available to the Freelancer on a non-confidential basis prior to its disclosure to the Freelancer by the Job Owner; (c) becomes available to the Freelancer on a non-confidential basis from a source other than the Job Owner provided that such source is not bound by an Agreement with the Job Owner; or (d) is required to be disclosed to any court, regulatory authority, other governmental authority or pursuant to any requirement of law.

At the request of the Job Owner, the Freelancer shall return all Confidential Information received from the Job Owner and shall not retain any copies of, or other reproductions or extracts of, the Confidential Information, except as it may retain in accordance with prudent business practices (any retained material shall remain subject to the provisions of this Agreement without any time limit).

The Freelancer acknowledges and agrees that the Job Owner is not making any representation or warranty, express or implied, as to the accuracy, correctness, or completeness of the Confidential Information. The Freelancer agrees that neither the Job Owner nor any of its affiliates, directors, officers, employees, professional advisors, or agents shall have liability to the Freelancer resulting from the use of the Confidential Information by the Freelancer or the Representatives.

Notwithstanding any other remedies which may be available to the Job Owner, the Freelancer indemnifies and must keep the Job Owner indemnified against any loss or expense suffered or incurred by the Job Owner directly or indirectly in connection with or arising out of or as a result of the breach by the Freelancer or its Representatives of any of the terms of this Agreement.

This Agreement is governed by and shall be construed in accordance with the laws of [YOUR LOCATION], and the parties irrevocably submit to the non-exclusive jurisdiction of the courts of [YOUR LOCATION]. The duration of this Agreement is 12 (twelve) months from the date of this Agreement.

This Agreement shall not be amended or modified, and none of the provisions shall be waived, except in writing, signed on behalf of the parties, or, in the case of a waiver, on behalf of the party making the waiver.
Template 5: Various Templates and Generators
It's nearly impossible to provide a perfect contract for every situation, so we're not really going to try. The above contract templates serve three purposes. They show you a few examples of what a contract can look like in increasing complexity. They give you options to start with. And, they serve as options you can use if they fit your situation. However, most of the time, these contracts won't be quite right.
Luckily, "legalese" is a very rigid language. Phrases have specific meaning and structure, which makes it easy to plug-and-play "modules" of legal language. Thus, there are quite a few tools out there that can be used to generate a contract for you based on terms you input through the tool.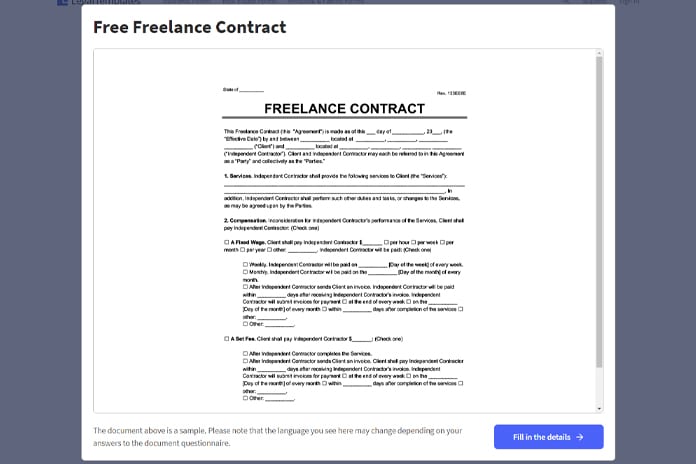 Here are some of the options you can use:
Somewhere amongst all of these possible options, you should find something that works as a good starting place for your agreement. Or, you can just let your freelancer use their own contract if they have one. Just make sure to review the terms and make sure they're acceptable to you.