If you're a freelance writer looking for work, you've probably seen Craigslist recommended as an option. If you're a company looking to hire a freelance writer, you might think of Craigslist as a great choice. For both sides of the equation, it seems like Craigslist might be a great way to link up, but is that really true?
Well, if you do a few searches online, you'll see two things:
A ton of posts talking about how Craigslist is great
A ton of posts talking about how Craigslist is full of scams
Now, these two things aren't really mutually exclusive. You can have a platform full of scams, but if you filter past them, full of gold.

Craigslist is, if nothing else, probably the biggest example of that in every area. They're great for buying and selling items, as long as you can filter past the scams. They're great for hiring people, as long as you can filter past the scams. They're great for finding a place to rent, as long as you can… you get the picture.
So, here's the truth.
Craigslist can be a great place for a business to go to find new freelance writers to hire.
Craigslist can be a great place for freelance writers to find new gigs.
Craigslist is absolutely full of tons of scams on both sides of the coin.
Knowing what they are and how to avoid them is paramount, which is part of why I wrote this post. Check it out before you start investing in Craigslist so you know what to watch for.
As a Business: How to Find Writers on Craigslist
If you're a business owner, hiring manager, recruiter, blogger, or just someone who needs to pick up a writer to do some work for you, Craigslist can be a good place to go.
Craigslist has a few advantages over other sites when it comes to freelance writing.
For one thing, it's traditionally always been more focused on freelancing and gigs than it has on full-on jobs. If you post a writing job on Indeed or Monster, people are going to assume it's a full employment relationship, not necessarily a freelance gig or contract job. Craigslist, though, has that expectation built in.
In fact, writers have been finding gigs through Craigslist for just about as long as the site has existed.
The question is, how can you find those writers?
1. Pick the Right Locations
Craigslist is divided into thousands of sub-sites, each centered around a geographic location, typically a city or municipality. Larger cities may have subsections, and smaller cities may be lumped together, depending on the area.
One of the tricks to marketing with Craigslist is knowing that a ton of these areas aren't all that valuable to use. If you can work with a writer in any location in the United States, should you spend your time writing an ad for Topeka, Kansas, or for Los Angeles? One will get nearly an order of magnitude more exposure.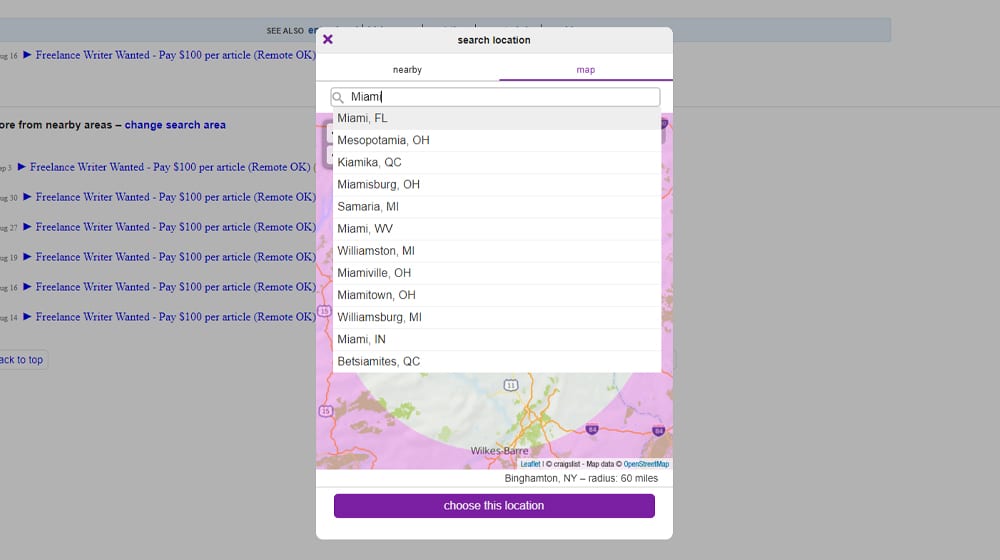 Generally, you want to post in major metropolitan areas, like NYC, Miami, Los Angeles, Chicago, and Dallas. It's up to you how many cities you post in, of course. You should also post in your own local region, simply because local reputation can help attract writers familiar with your company already.
Craigslist limits you to post to one city every couple of days, which isn't very good for volume exposure, but if you prioritize the top cities, you can still find writers fairly quickly. If you want broader exposure, you can consider hiring someone to do it for you, but that has its own problems.
2. Write a Good Listing
Writers are extremely wary of being scammed on Craigslist, and with good reason. For every legitimate business posting a gig, there are a dozen posting something exploitative or fake. You need to differentiate yourself from them in a variety of ways.
A good listing should have:
Keywords relating to the type of work, like "freelance writing" and "writing job," since these are the kinds of phrases writers are going to be searching for to find your opportunity.
Clear discussion of what the job will entail, what topics it will cover, and whether or not it can be an ongoing gig. Be specific about the kind of writing and the format as much as possible.
A good, publicly-disclosed rate. Yes, picking a rate means you'll be filtering your audience somewhat, but it's important to avoid the common bait-and-switch scams. Writers want to know what kind of money they'd be making to know whether it's worth their time.
You also want to be clear about who you are. If you're hiring as an anonymous company, you're probably a scam. It doesn't take much to disclose who you are, and encourage writers to research you before reaching out.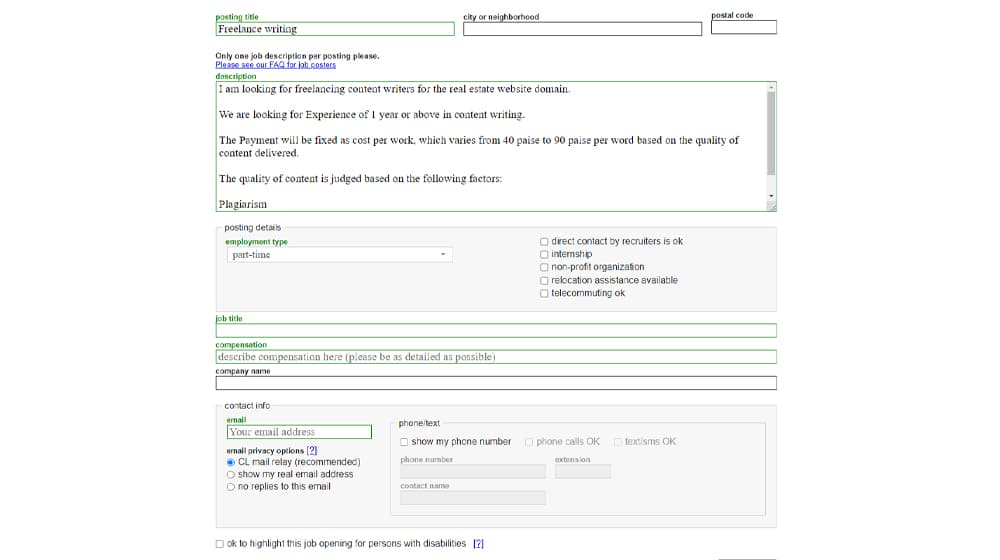 You may also consider telling potential writers NOT to contact you through Craigslist and rather to visit your website and contact you directly. This way, you can ignore all of the bots and scams that try to reach out through the Craigslist contact form and weed out anyone who can't read. It also verifies your identity rather than linking to a business and claiming you're that business when you're really not (which is another common scam.)
Likewise, your copy and offer need to be good and well-written. If you're hiring "thousands of writers ASAP" or promoting how much a writer can make with copy like "Earn up to $2,000 per week!", you're indistinguishable from the scams.
Between these two points, you have everything you need to find writers on Craigslist. Everything else is standard. Figure out how to test your writers, work out a contract, and so on.
3. Consider Browsing for a Service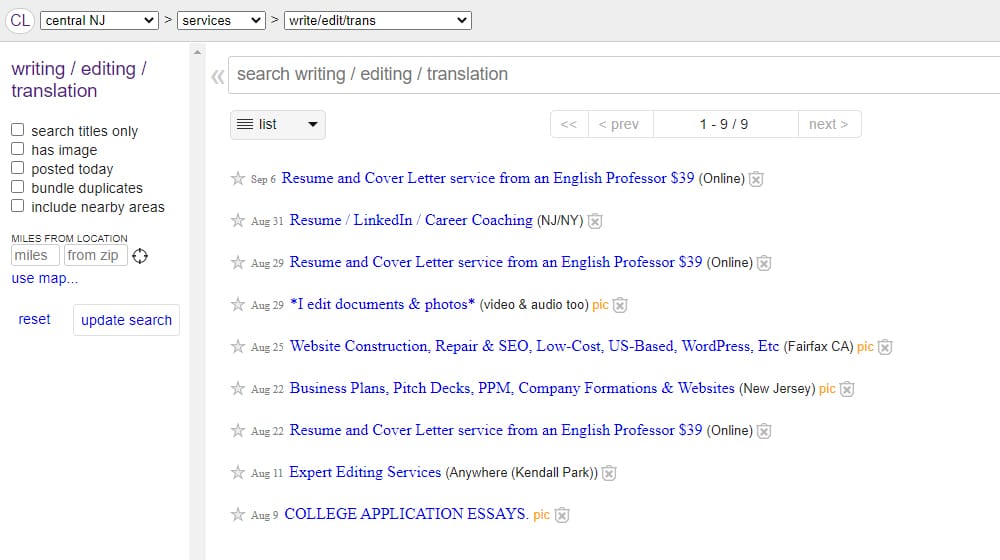 As a business looking to hire, you're used to posting ads and waiting for people to come to you. But, you can also go to the Services section and find the writing/editing/translation section there. You can find writers who advertise themselves and their services and browse through them, looking for promising options. Now, there will probably be plenty of issues with this, too – people reselling writing or using AI writers or spinning software, for example – but you can find legitimate writers there too.
As a Writer, How to Find Writing Gigs on Craigslist
Now let's look at the other side of the coin. You're a writer, and you want to find a job on Craigslist. Can it be done?
Yes, but again, you need to know how to go about it the right way and avoid scams.
1. Look in the Right Areas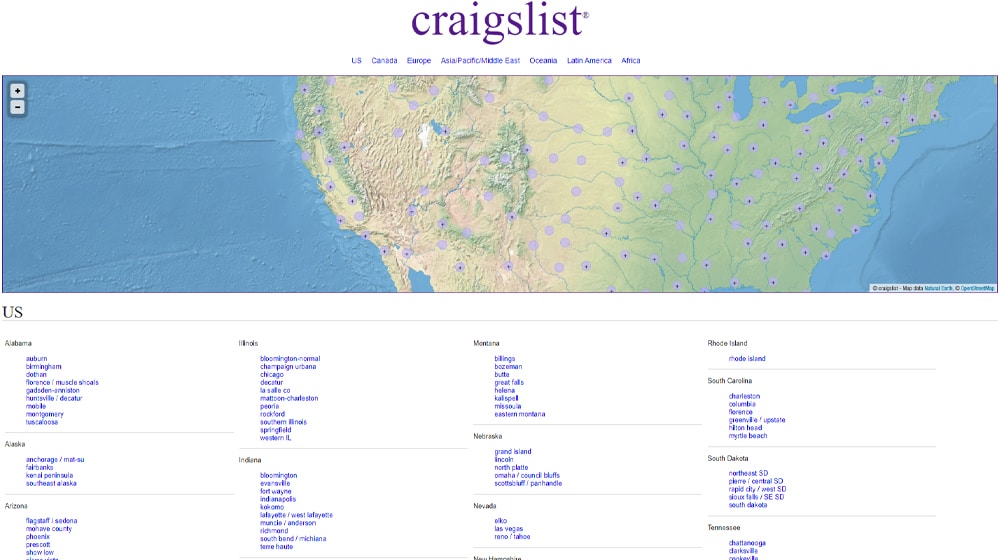 Much like how companies that can hire someone anywhere in the world can post in locations they aren't based in, you can find jobs in areas you don't live. You just need to go to those CL sections. Again, major metropolitan areas are generally the place to be. Check out Los Angeles, NYC, Chicago, Dallas, and so on. You can also check your local area to see if any local companies are hiring, of course.
2. Learn the Scams
Unfortunately, there are a lot of scams on Craigslist targeting writers desperate for cash. They usually are very vague about what they do, promise near-unbelievable amounts of income, and don't specify a company. There are more sophisticated scams as well, which are harder to spot, but you can grow to recognize them over time.
As a general rule of thumb, if a company wants you to submit unique writing and isn't paying for it, don't work with them. If they want you to pay anything – application fees, account access, etc. – don't do it. And, of course, go with your gut instinct. If something feels too good to be true, it probably is.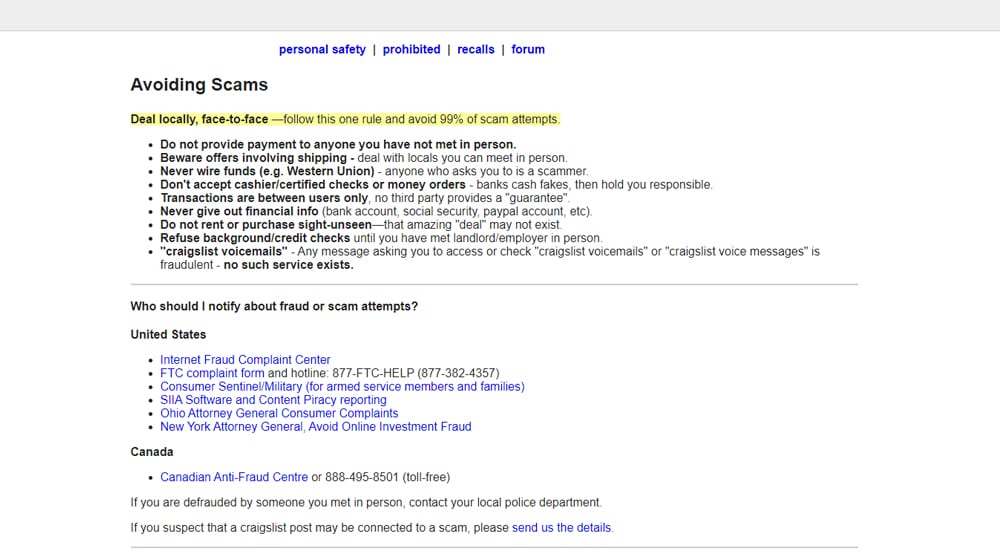 Safeguard your personal information, too. If a company is asking for sensitive personal information like SSNs or other IDs or wants your bank access, and so on, they might just be trying to steal your information. Some of that information is necessary, eventually, for tax and payment purposes. But, a legitimate company shouldn't need that stuff from you right away and won't demand it.
3. Research the Company
Ideally, any company posting a legitimate job advertisement on Craigslist – for actual employment or for freelance gigs – will identify itself. You should be able to research the job and identify whether or not they seem to be legitimate, active, and actually looking for writers. You may be able to find their listings on other job sites or even their own website, as well.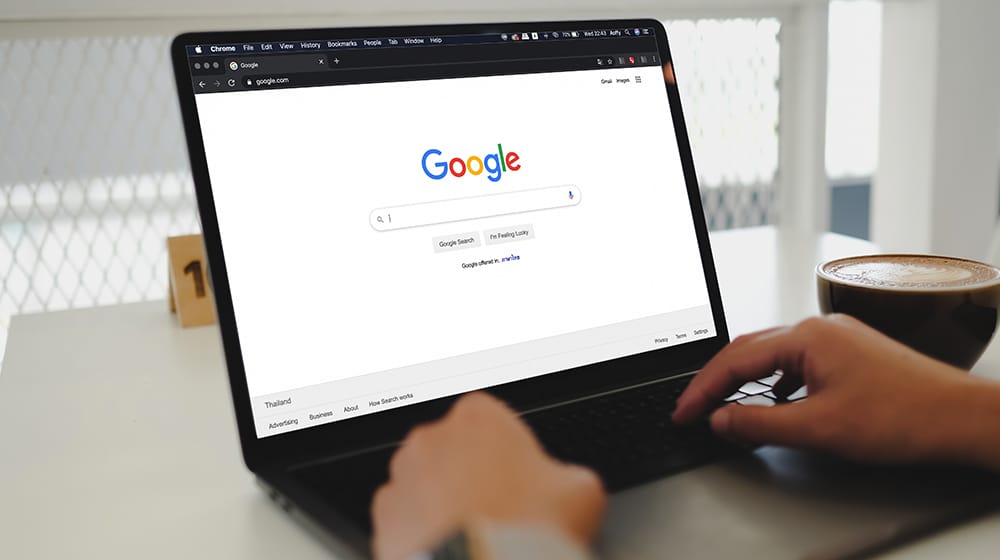 You can also consider asking to chat on a phone or Zoom call to make sure the person hiring for the job is legitimate. Yes, I know; many writers are introverts and don't want to do that kind of thing. It might not be necessary, but it can give you some peace of mind.
4. Ask Filtering Questions
When you see a listing, ask yourself questions about it.
Is it clear what you'd be writing about? Is it an area of interest or specialty for you?
What format, word count, and expectations does the client have?
What is the budget or pay rate, and is it acceptable for you?
Will it be a short-term or one-time gig or potentially ongoing work?
These kinds of questions can help you determine if a gig is even worth applying for, especially if it's legitimate.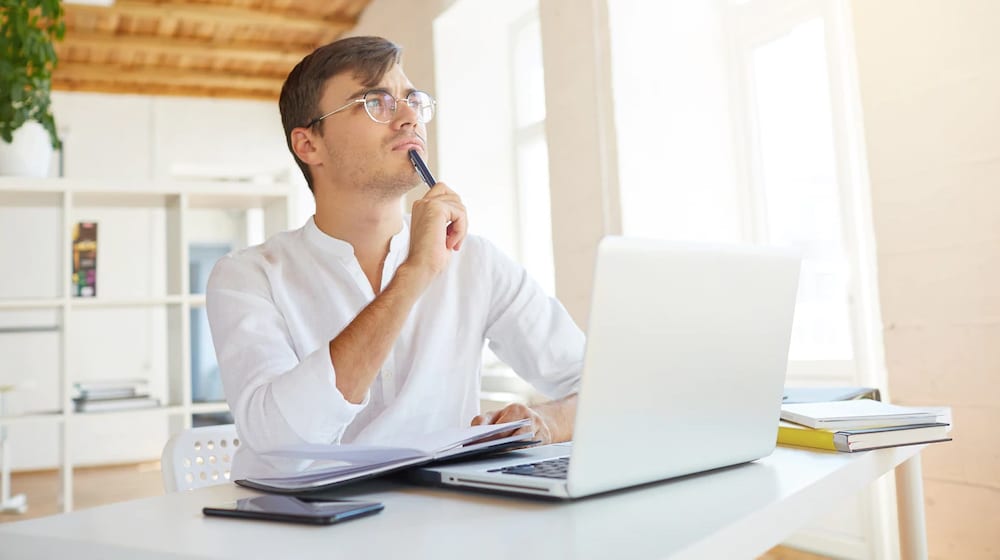 While getting paid work is important, it's also important to get work doing something you enjoy. If you don't like, don't watch, and don't care about sports, applying to be a sports writer won't be a good fit.
5. Consider Posting a Service
Craigslist has writing/editing/translation sections under both gigs and services. As a writer, you can post your services as a writer and see if anyone wants to hire you.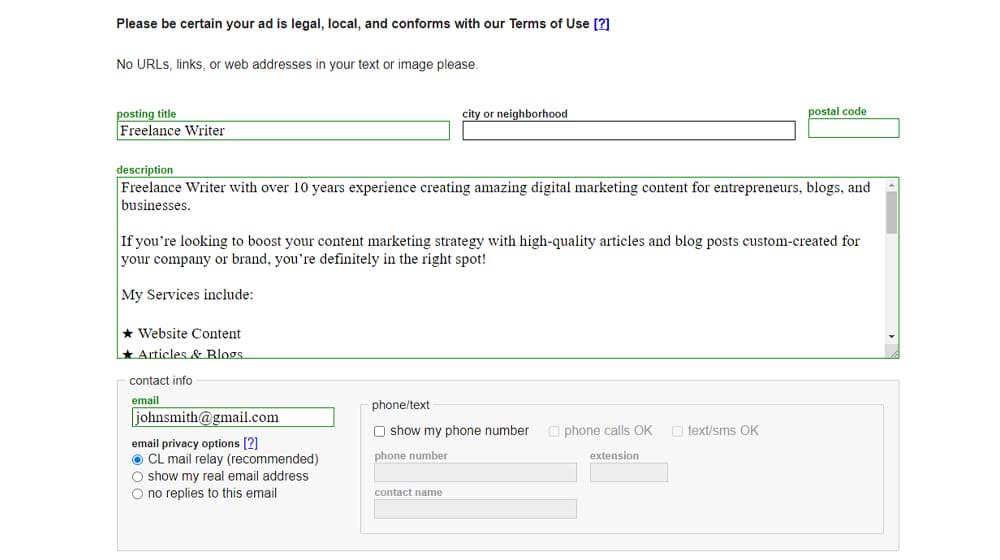 If you want to do this, consider browsing the section above for posting an ad on Craigslist to see how it works and how to do it effectively.
Is Craigslist a Good Option?
Now, for all that I've said that you can use Craigslist, is it really a good option? For writers or for businesses?

Well, yes and no.
It's a functional option. You can use it to find writers or, as a writer, to find a gig. It takes time and patience to find those opportunities, but they DO exist.
The question is, is it any better than other options?
Truthfully, probably not.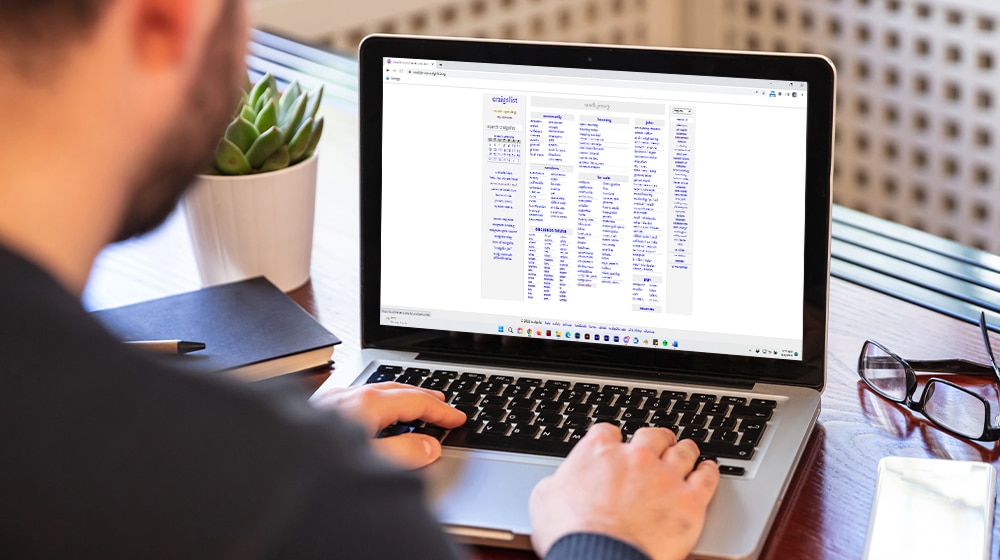 If you're a writer, you have plenty of options to find gigs. You can work for content mills like Textbroker or content agencies like Writer Access or Verblio. You can establish profiles on sites like Freelancer and Upwork. You can even work on Fiverr for a decent rate per hundred words. Once you have some clout under your belt, you can even make your own website and proactively advertise your services.
As a business, you can go to all of these same places to hire a writer. You can find writers on content mills or through agencies, or on Fiverr or a freelance hub. You can also just post your job opportunities on job sites and trust that writers will apply, knowing it's freelance work. And, of course, you have your website's careers page, or a "write for us" page that can attract people from Google too.
Is it worth using Craigslist? Sure, if you want to. Is it the best option? Nope, not at all. It can be a good way to find writers or writing jobs as a supplement to other options, but those other options are probably going to be better.
Speaking of other options, whether you're a writer looking to find a writing job or a business looking to find a freelance writer, why not check out this very site you're reading right now? Just check out the top of the page and browse our directories. I want to have a useful writing job board for both writers and clients, and I can't do that without you. If you have any questions, be sure to let me know! I'd love to help out however I can!