Having your own freelance writer website can help you showcase your online portfolio, increase brand visibility, and much more. While you can certainly find work as a freelancer without one, having your own site can give you a serious leg up compared to the competition.
What should a freelance writer website look like, though?

In this post, we'll take a look at more than seventeen of the best writer websites online to help inspire you to create your own. These sites have been hand selected for their design, content, personality, and efficacy as writer websites.

Without further ado, let's dive in to give you the inspiration you need to start making your own writers website for your freelance writing business.
Best Writer Websites For Inspiration
If you need a little inspiration to get your website started, this diverse list of the best writer's sites should be the perfect thing for the job.
Are you ready to start finding writing gigs right now? If so, make sure you check out our freelance writer job board.
1. Elna Cain
If you've ever searched online for information about getting paid to write, you've likely found yourself on Elna Cain's blog.
Her writing website is simple and bold, with information right up front about the services she offers as a freelance writer.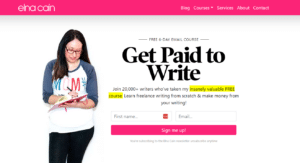 2. Ann Friedman
Brightly colored, modern, and fun, Ann Friedman's writer site neatly displays her portfolio, newsletter, audio interviews, and more for visitors to pursue.
There are a bunch of great ideas to be found on her site– everything from recommendations for content and organizations to a highlight of her well-rounded skills.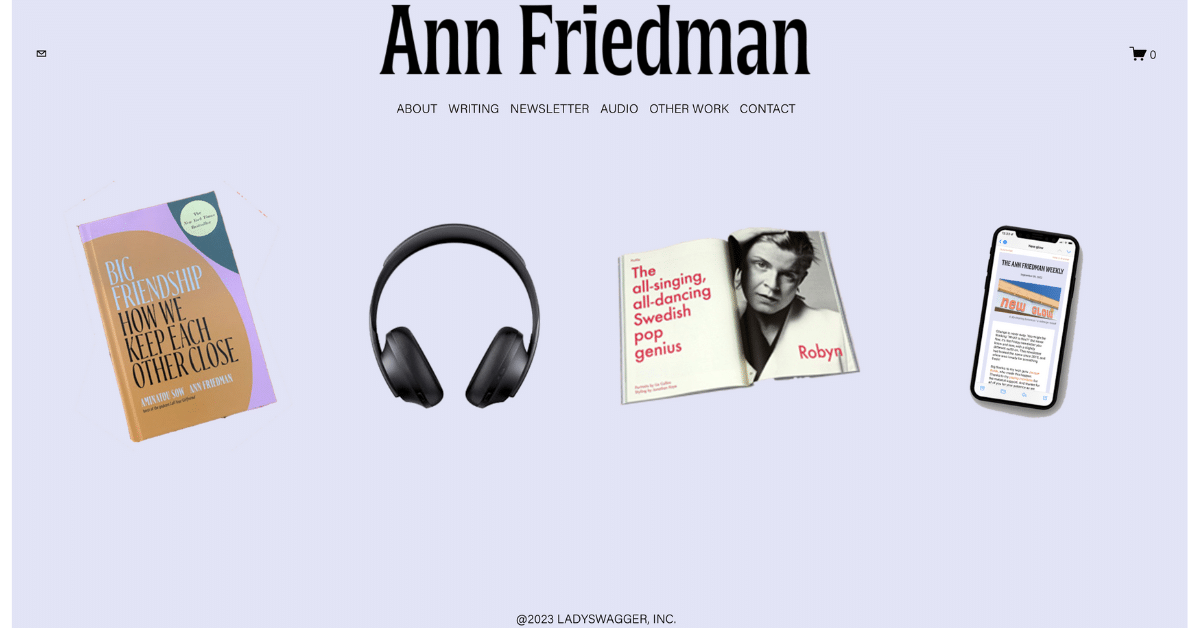 If you're new to writing as a career, check out our post on how to get entry level writing jobs for beginners.
3. Emma Gannon
Emma Gannon's writer site catches your eye right away, with an oversized yet tasteful illustration of her taking up the entire right half of the page. On the left side, you find a handful of well-chosen words that help you understand who Emma is and what type of work she does right off the bat.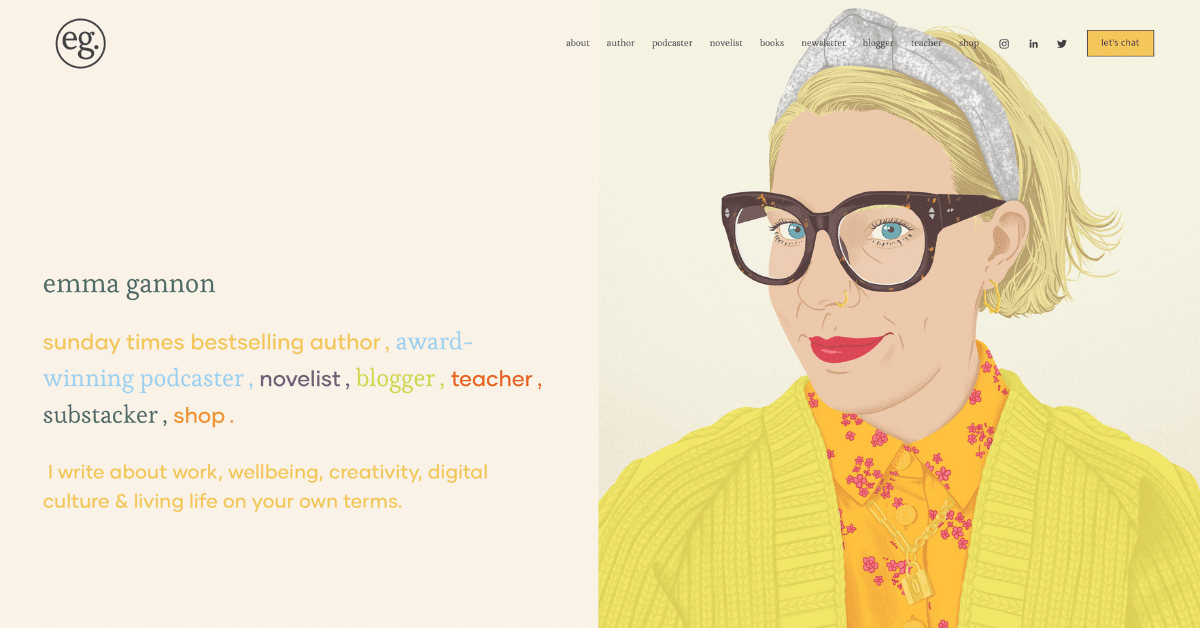 As a blogger, podcaster, author, teacher, and more, it makes sense that she would have quite a few different pages on her site. Neatly organized into different categories in her header menu, visitors can quickly navigate to the section that will answer the questions they have about her services.
4. Kat Boogaard
Kat Boogaard's site is a wonderful example of how adding a personal touch to a site can make your freelance writing business seem:
More genuine
Authentic
Approachable.
Using calming, neutral tones and writing with a friendly voice, she uses her homepage to let the audience know who she is and the services she offers.
Are you applying to be a writer for a client looking for case studies? Check out our guide to researching and writing a case study.
5. Kelsey O'Halloran
With strong copy and a clean look, Kelsey O'Halloran's website is straightforward and well-designed. Made with Squarespace, this is an example of a site that is both simple and professional.
Her services are clearly listed under the feature image and compelling copy.
Her homepage also includes testimonials and a brief pitch about why you should work with her.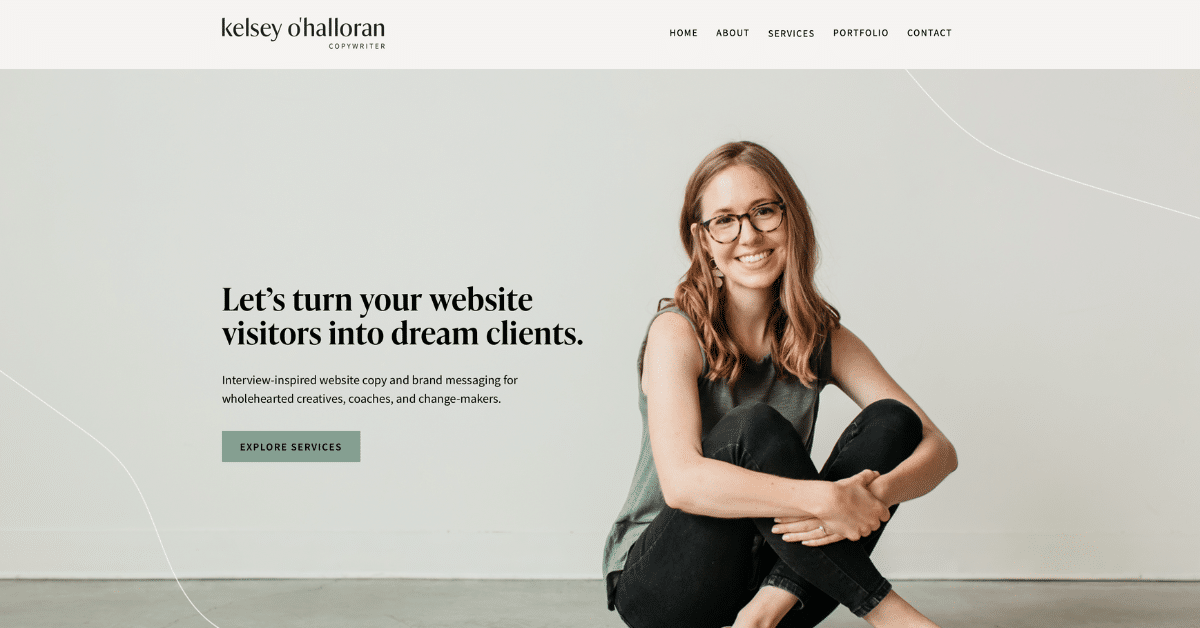 Using earthy colors and high-quality personal images, this is another site that looks like you'd have to shell out the big bucks to have a web design company make it for you.
6. Shanley Cox
Another well-designed Squarespace site, Shanley Cox's writer website, offers excellent inspiration for anyone that wants to make a creative, feminine, and compelling pitch through their own website.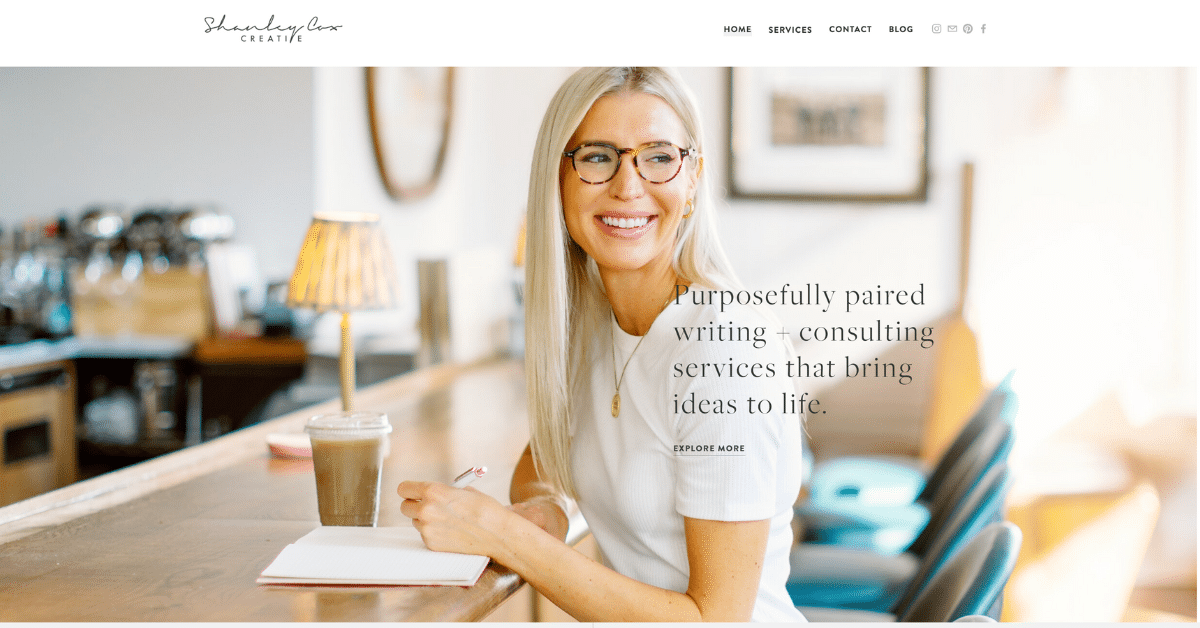 Her homepage has just enough information to draw you in– more information about Cox, the services she offers, testimonials, and a simple contact form so clients can "start the conversation."
With a lighthearted and conversational tone, this is a great example of how you can sell your services through strong and well-thought-out copy on your own site.
One of the most important parts of your writer's site is going to be your portfolio. Check out our complete guide for building and reviewing a writer portfolio.
7. Kristin Macintyre
Made with Squarespace, Kristin Macintyre's site loads content as you scroll to help boost engagement and keep the audience interested. She quickly informs you of all the ways she can help market your digital product through the power of language.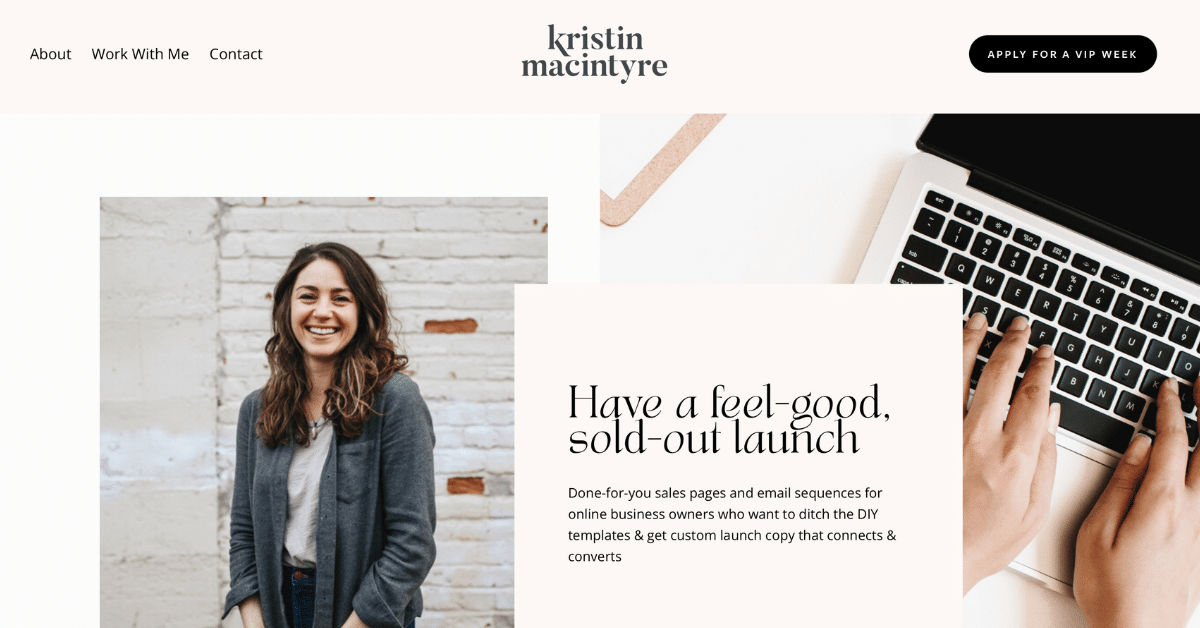 As you scroll down the page, you're taken on a journey complete with testimonials, course offerings, and much more. When you finally reach the bottom, she has a clean and well-framed CTA button inviting visitors to "Apply for a VIP Week." There are also easy-to-see links to head back to the top of the home page, learn more about her, work with her, or send her a message.
8. Rosalie Durst
Content marketer and copywriter Rosalie Durst's site is clean and neatly designed, with only two simple menu items:
The bulk of the content on the home page after her strongly written copy is a grid of clickable, neutral-colored squares that lead you to more information about each of the services she provides.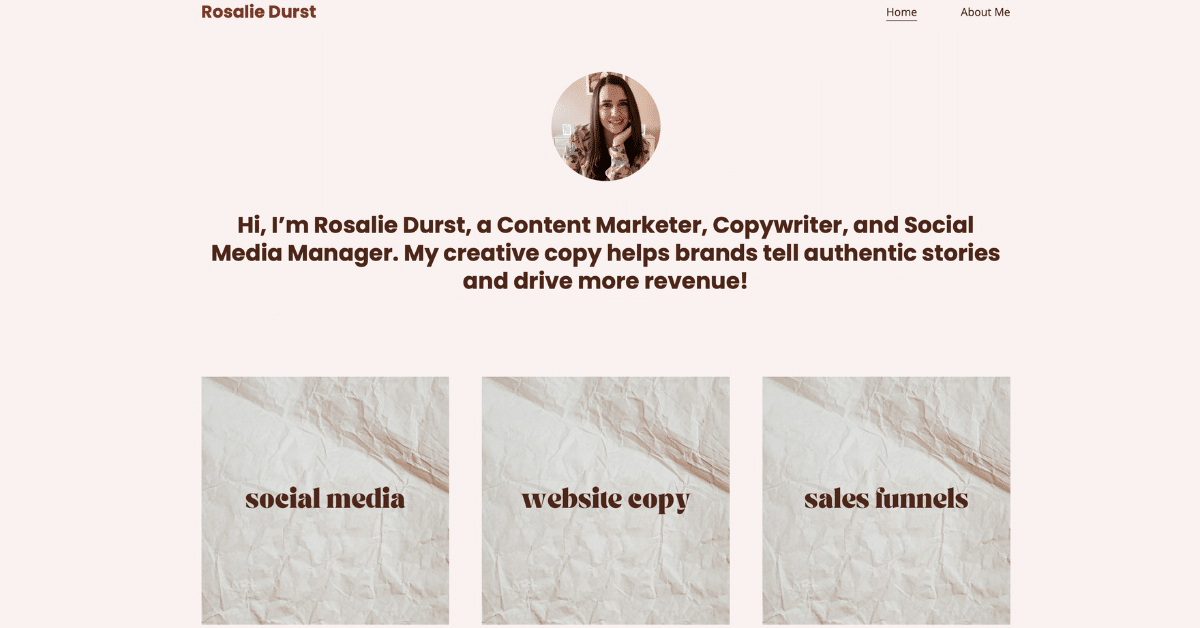 If you're nervous about what it entails to make a site for yourself, this is a great one to explore.
Writers Tip! You don't have to have an over-the-top site– sometimes less is more!
If you're just starting out as a writer, you might be tempted to write for companies that pay low rates and churn out high volumes of content. Before you apply, take a look at our guide to everything you need to know about content mills.
9. Julie Yuen
Julie Yuen's black-and-white site is eye-catching and well-designed, using high-contrast images that draw you in and well-written copy that helps you understand what she can do for you. She provides frequent CTA buttons to help visitors engage right away. She features some of her portfolio pieces in a neat grid to help illustrate her experience and knowledge in the world of writing and marketing.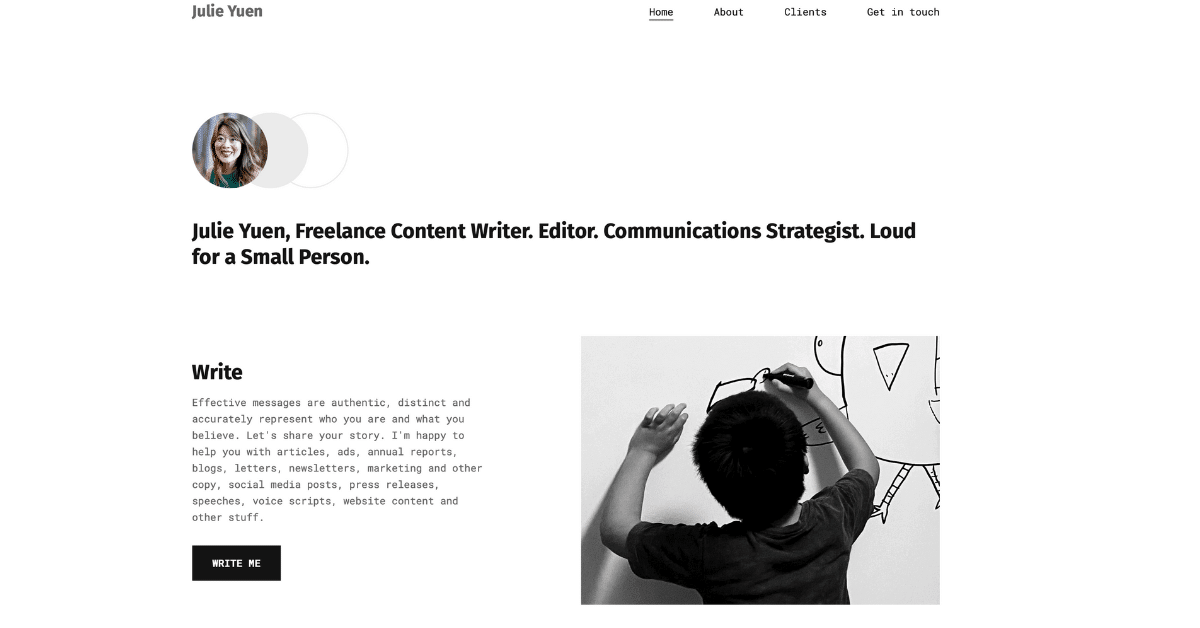 10. Ellie MacDonald
A great example of a writer that markets themselves toward a specific niche, Ellie MacDonald, tells you right away that she is an SEO content writer for health and wellbeing businesses. She then goes into clean bullet point lists of what you'll get when you hire her and why you should work with her. Finishing up the home page with some simple illustrations that link to her portfolio and logos for the brands she's worked for in the past, this site is bare-bones yet still easy on the eyes.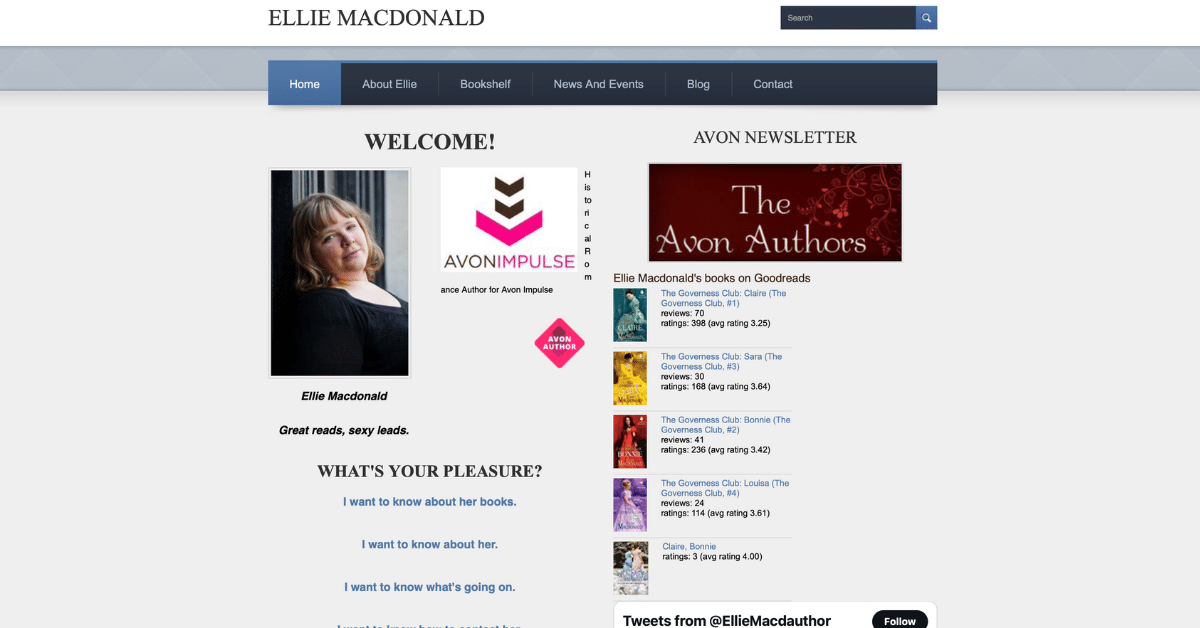 Are you going to have a blog on your writer's site? If so, take a look at our ultimate guide to writing a bio for your blog.
11. Alejandro Castro
Many of the sites that you'll see on this list are clean, neutral toned, and easy on the eyes. While there's nothing wrong with creating a minimalistic and professional site that fits within contemporary design trends, there's something to be said for boldly standing out for the crowd.
You can see an example of this exact tactic on the site of Alejandro Castro. When you first arrive on the site, you are greeted with a bright, seafoam green solid colored background and pink text that *almost* clashes. When you scroll over the nearly poetic and mysterious words, a bright, high-contrast image takes over the background to completely change the feeling of the space.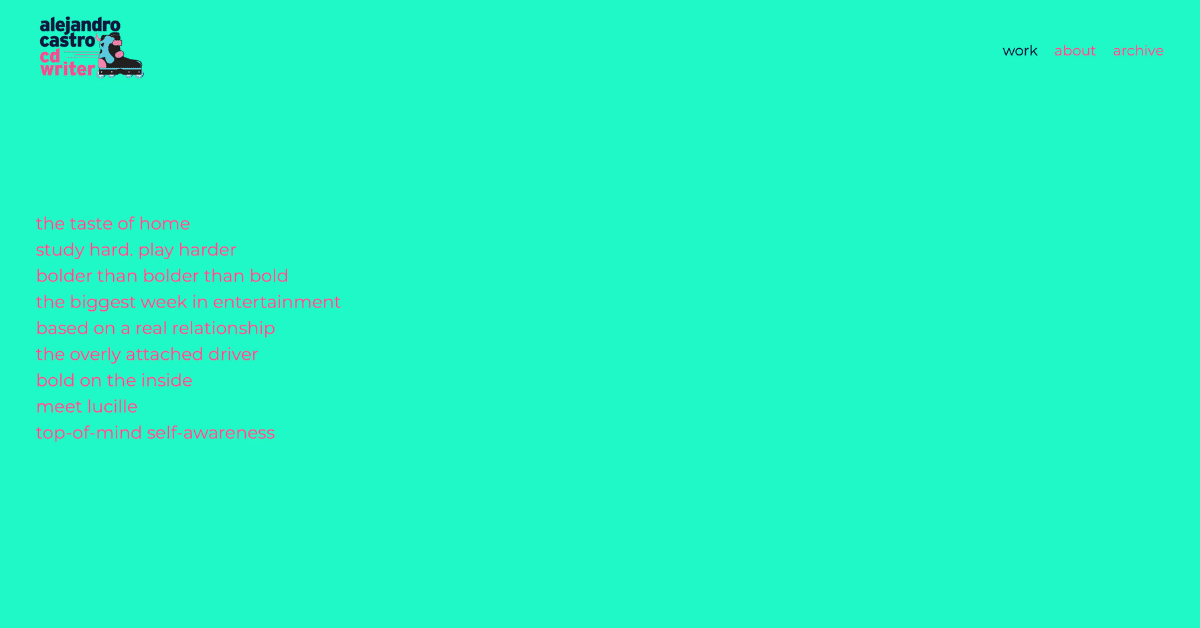 There's not nearly as much information on Castro's site as some of the others on this list, but it's practically refreshing. You can still find everything you might want as a client– his portfolio, his history as a writer, and how to contact him.
In a crowded sea of personal writer websites, you might consider taking a hint from Castro and forging your own path.
12. Katie Lemon
Katie Lemon's site immediately tells you how her copywriting can benefit your business– helping you grow your audience, convert more leads, and make more money "without selling yourself out." While many of the other sites on our list open with information about the writer, Katie is approaching site design from the standpoint of a marketer– she understands that she needs to speak to the needs of her audience.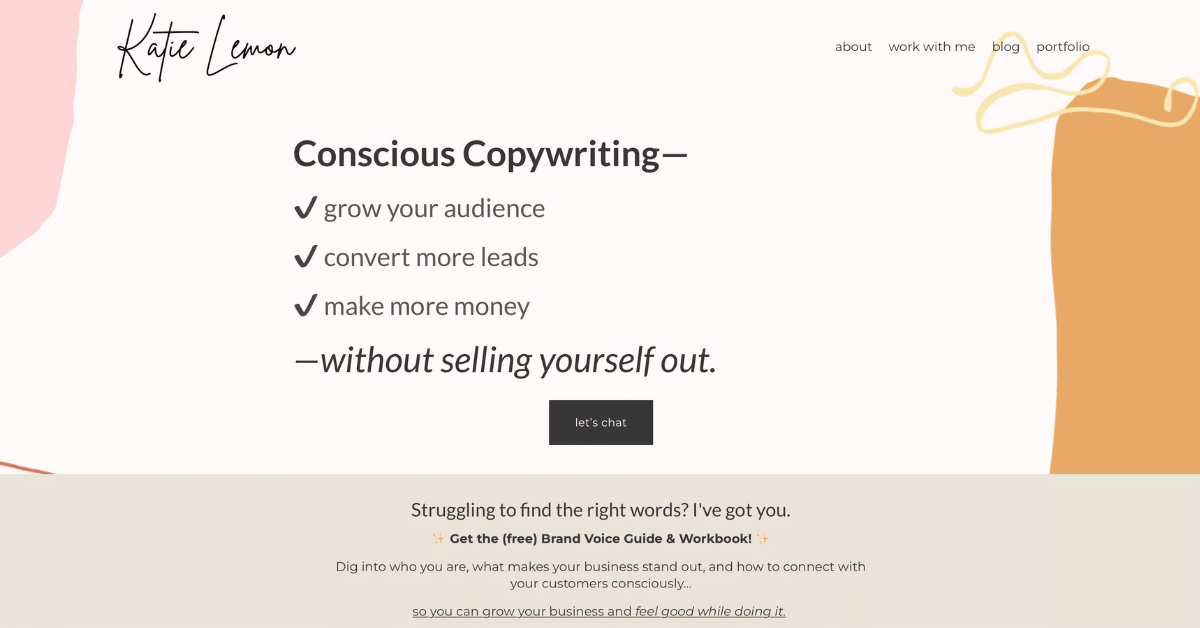 She brands her own particular form of writing as "conscious copywriting," appealing to people that want their business to thrive and grow but don't want to feel like they're dipping into the slimy car salesman territory.
Using largely neutral tones with some bright but still earthy pops of color, this is an excellent example of a writer's site that draws you in and sells you on their services.
13. Gio Marcus
Bold and over-the-top, Gio Marcus' site starkly contrasts with some of the more neutral and understated sites on our list. You know right away that hiring her means hiring someone with a big, loud personality, and she illustrates that her approach produces real results by quickly informing you that her clients have been featured in the New York Times, CNN, The Huffington Post, and other big-name publications.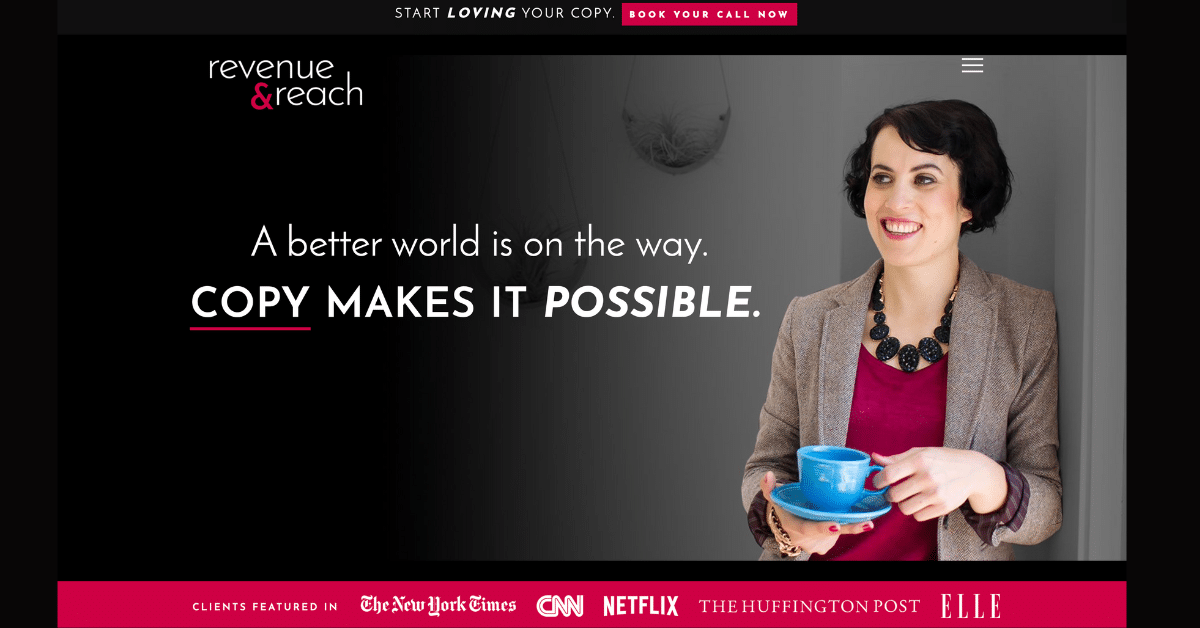 Dense with text and brightly colored images, her site hardly gives you a second to breathe. She's selling you on her services over and over in a way that feels loud and in your face. At the same time, you can tell that this site was well-crafted as a reflection of the writer's personality in a way that has most certainly landed her some big-name clients.
Do you have a plan for receiving payment as a writer? Take a look at the eight best payment methods for freelancers.
14. Brandon Van Buskirk
It's hard to not appreciate Brandon Van Buskirk's writer site from the very first moment it loads. Your first glimpse is his name in large, blue-green text with a minimal menu at the top. Rather than a long, scrolling home page with endlessly loading content and features, he keeps it simple.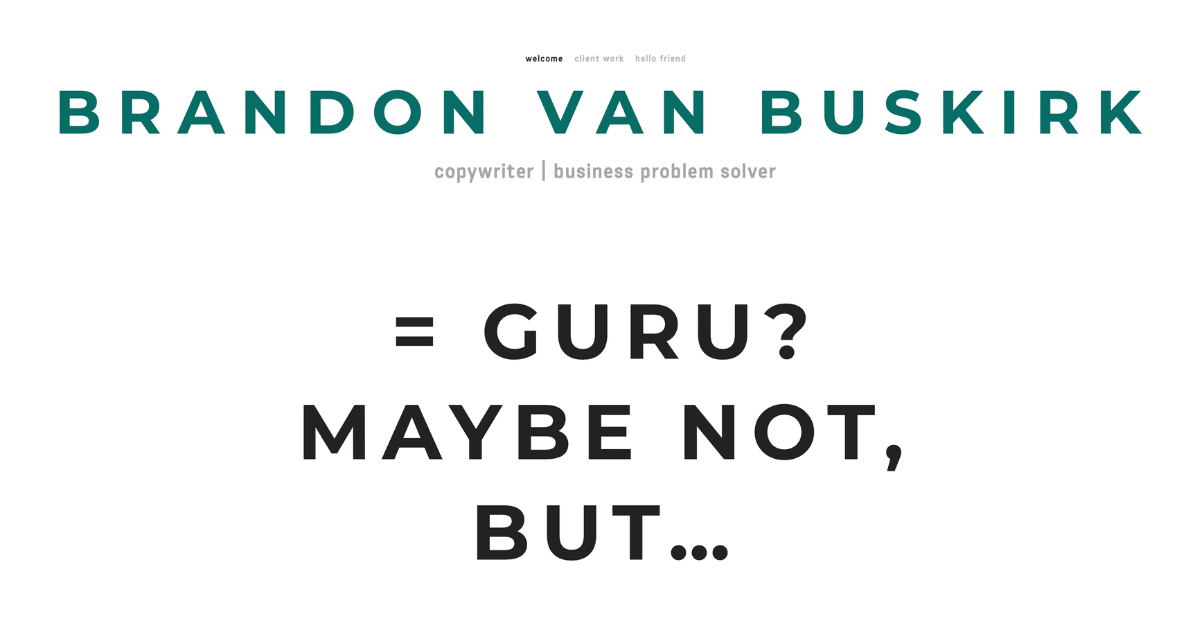 You can sense his strong personality immediately, even in his short intro that describes his services in just a few words and more than a few emoticons. To put a face to the name, he has a hilarious photo of himself against a sunny yellow background before listing his email address and some social media buttons.
When you head to the page that displays his client work, it's hard to not notice that he's worked with some pretty impressively big brands.
Tom's Shoes,
Adidas, and
Ancestry DNA
These sites all appear at the top of the list, and all of his portfolio pieces are backed by strong, bright, lively images.
15. Sarah Breeze
Branding her work as a "data-driven, personality-packed copywriting for sustainable brands," Sarah Breeze's homepage quickly offers a CTA for visitors to explore the services she offers. Rather than offering writing services to the broad swath of businesses out there, she smartly markets to brands that have a sustainable focus and purpose.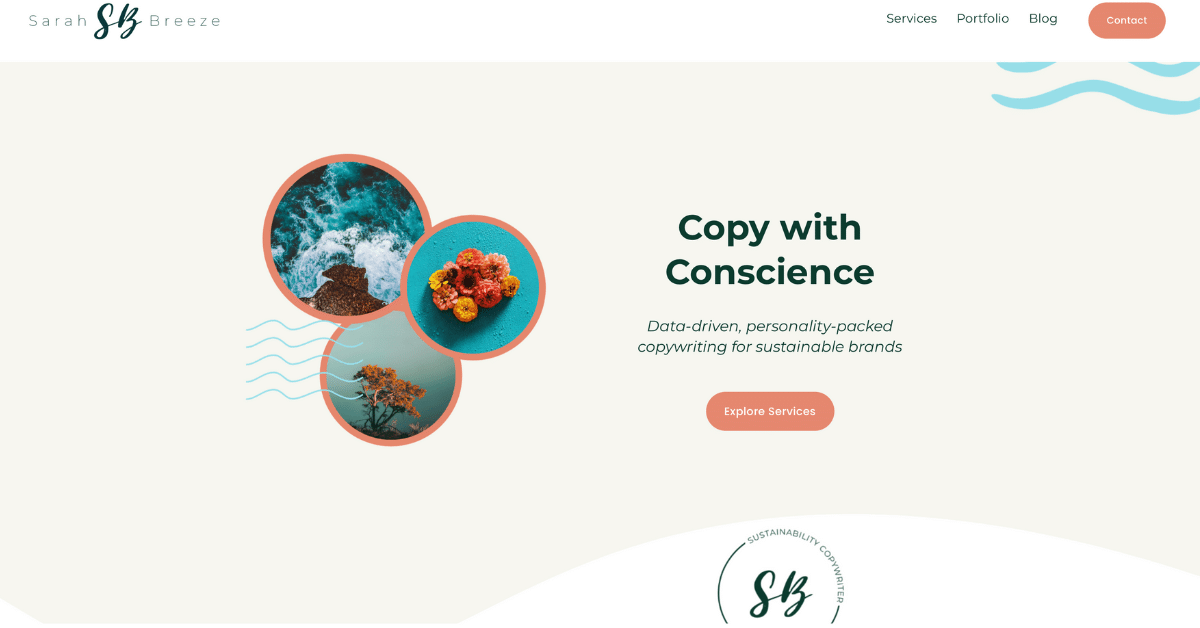 The design of the site reflects the market she is speaking to– blues and greens are plentiful, and photos of natural beauty are sprinkled throughout the scrolling home page.
You can find plenty of info about her and her services right on the first page, along with the following:
Testimonials
Her experience
Her specialties
Her commitment to working with brands that are earth- and sustainability-focused.
She doesn't use her whole home page to talk about how important it is to save the planet, though– she also offers hard data to show that her writing produces actual results.
16. Muriel Vega
Muriel Vega's website is a truly inspiring example of what is possible for freelancers. Colorful and fun illustrations serve as clickable icons on her homepage, which are both minimalistic and compelling. You can see how putting your own personality into your site can be advantageous when you peruse her site, as it's hard not to like her right from the get go.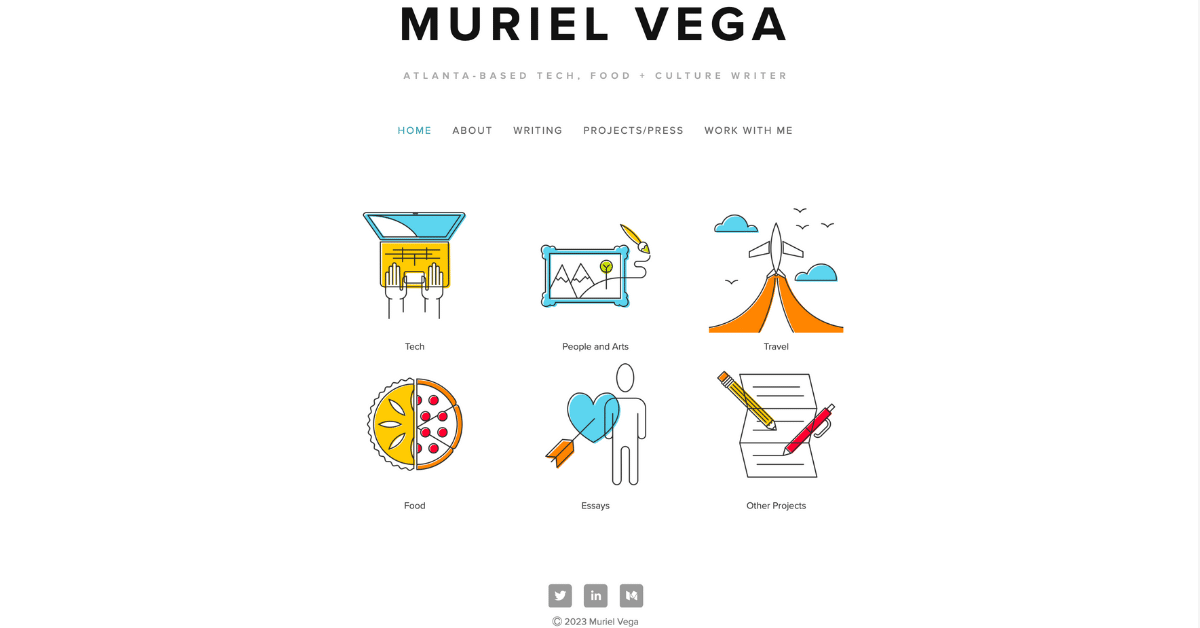 Are you thinking about writing a book in order to make some passive income? This guide goes over how to self-publish a book on Amazon the right way.
17. Manjula Martin
Your website doesn't need to be flashy or over the top to be successful. A great example of this is Manijula Martin's site– straightforward, clean, and minimalistic. This is a WordPress site that is easy to navigate and free from any fluff.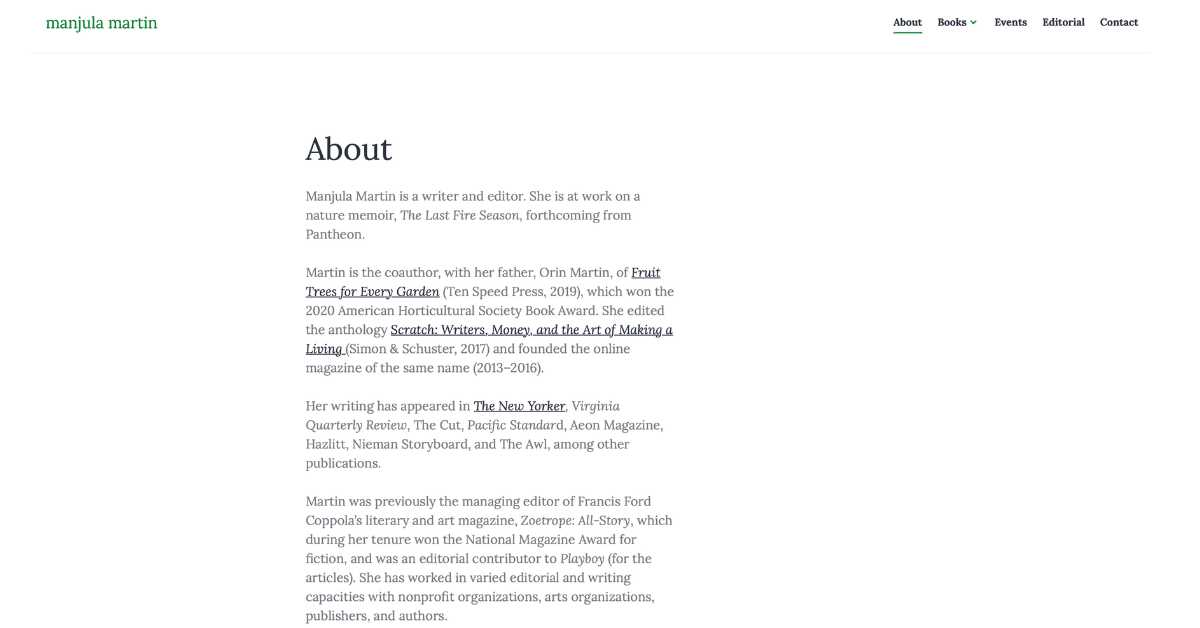 Have you thought about writing for Contenta? Before applying, make sure you read our review.
Bonus: Some More Inspiring Copywriter Websites
Are you building a freelance writing business as a copywriter?
Take a look at these awesome sites that show you just how much range a copywriter site can have.
1. Sarah Turner
Sarah Turner's site was made with the help of WordPress and Themely, but it looks like the type of site you'd pay big bucks for. Sleek and classy, her home page leaves no questions in the mind of visitors about the services she offers and how they can get started.
This is also a great example of how choosing a niche can be helpful to you as you get going as a writer– if you were in the health industry, wouldn't you book a free consultation?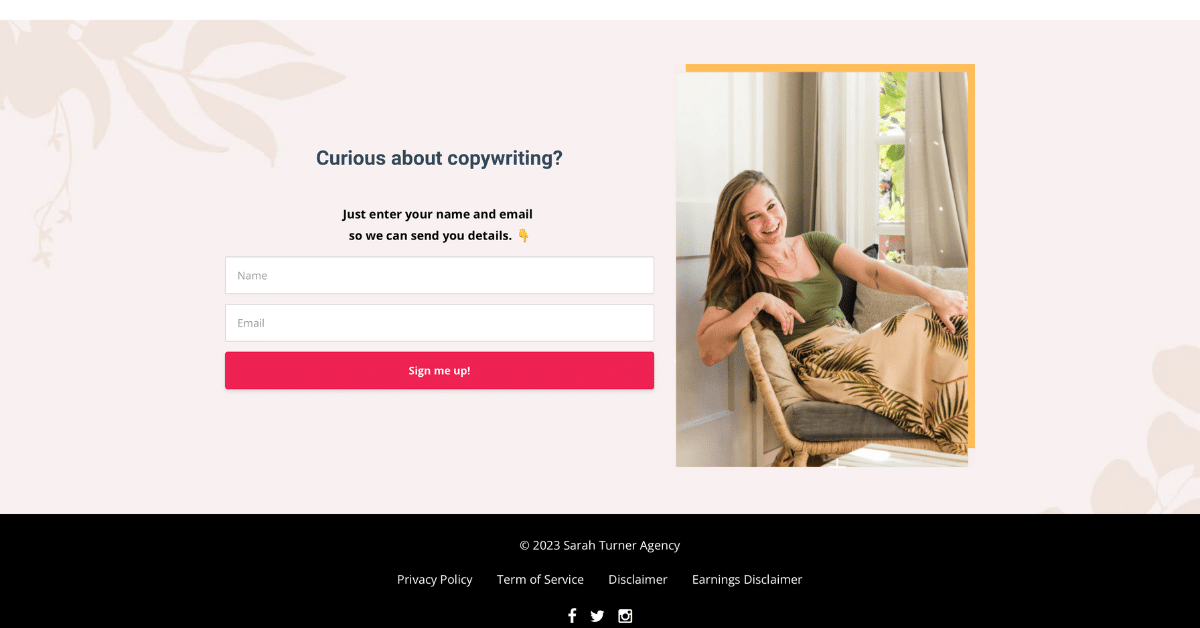 If you're new to freelance writing, you can learn about twelve types of freelance writers in this post.
2. Brooks Lockett
Created with Squarespace, Brooks Lockett's site pitches his strong suits right off the bat. He makes it clear that he's worked with a number of SaaS, BSB, and AI companies, providing substantiating evidence for his experience in the niche. The homepage boasts several buttons asking you to "book a free consultation," ensuring that it is simple for potential clients to start taking the next steps.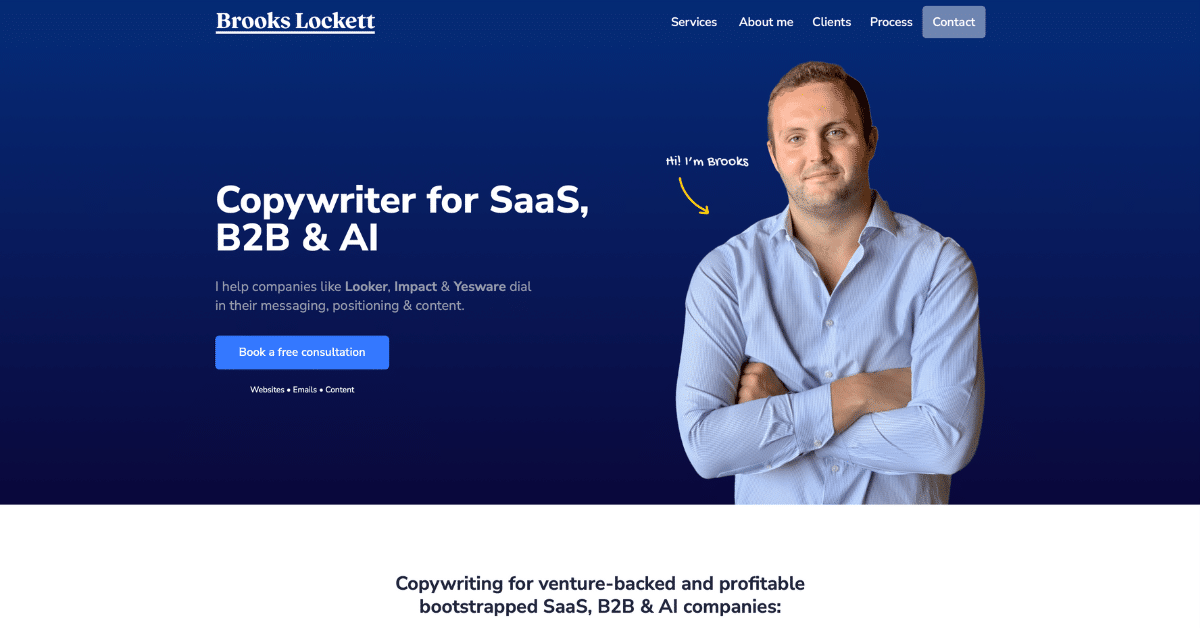 He also breaks down the process into four easy steps so businesses can know what working with him will entail. From his online proposal to building an ongoing relationship, he makes sure that his prospective clients have plenty of information to make an informed decision about whether he is the right guy for the job.
3. Big Mouth Copy
With a website that truly stands out from the crowd, Big Mouth Copy gets your attention right away. Zigging while others zag, their site is filled with punchy, vintage-inspired colors and is far from minimalist. Animated words swirl around the site, ensuring that your eyes never get bored when scrolling through their pages.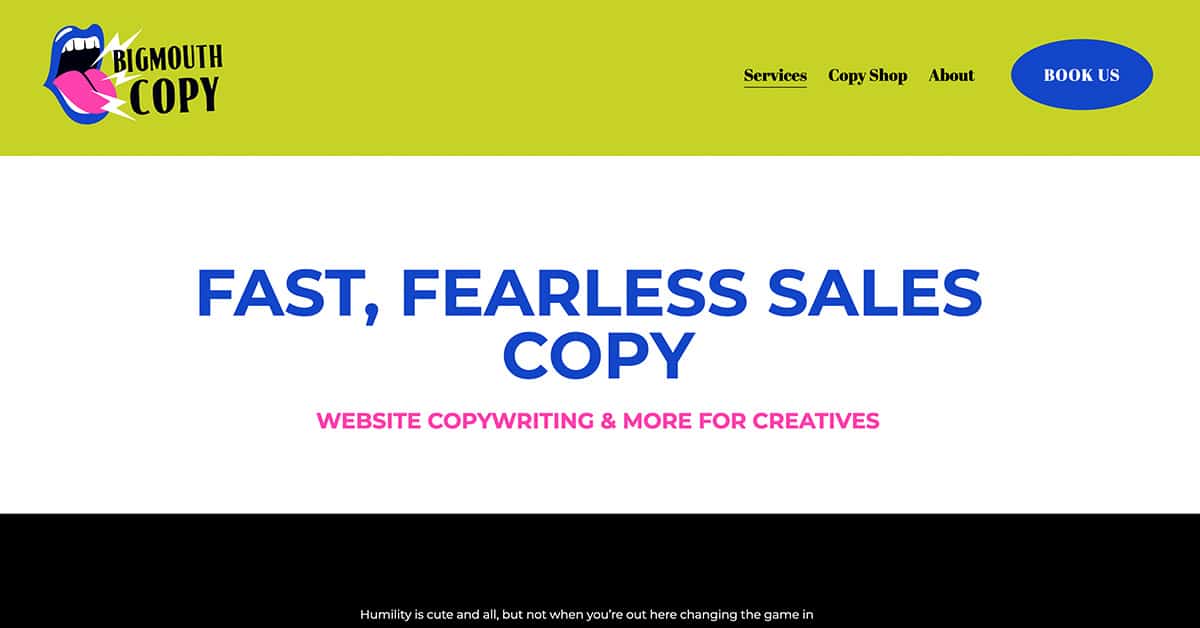 This is a great example of how you can draw attention to yourself and gain clients by doing things a little differently. Their landing page even states in large, capitalized letters: "PLEASE DON'T HIRE US."
It certainly catches your attention, doesn't it? Drawing you in with the sensational headline, they go on to say that you should only hire them if you're one of the:
"Creative entrepreneurs with vibrant personalities and bold perspectives,"
 Perhaps alienating some but ultimately winning the hearts of those that are drawn to their message and style.
4. EST Creative
While many of the sites we've featured are branded under the writer's personal name, this is an example of how you can take your professionalism to the next level by writing under a brand name. EST Creative is the brainchild of a copywriter named Emily Thompson.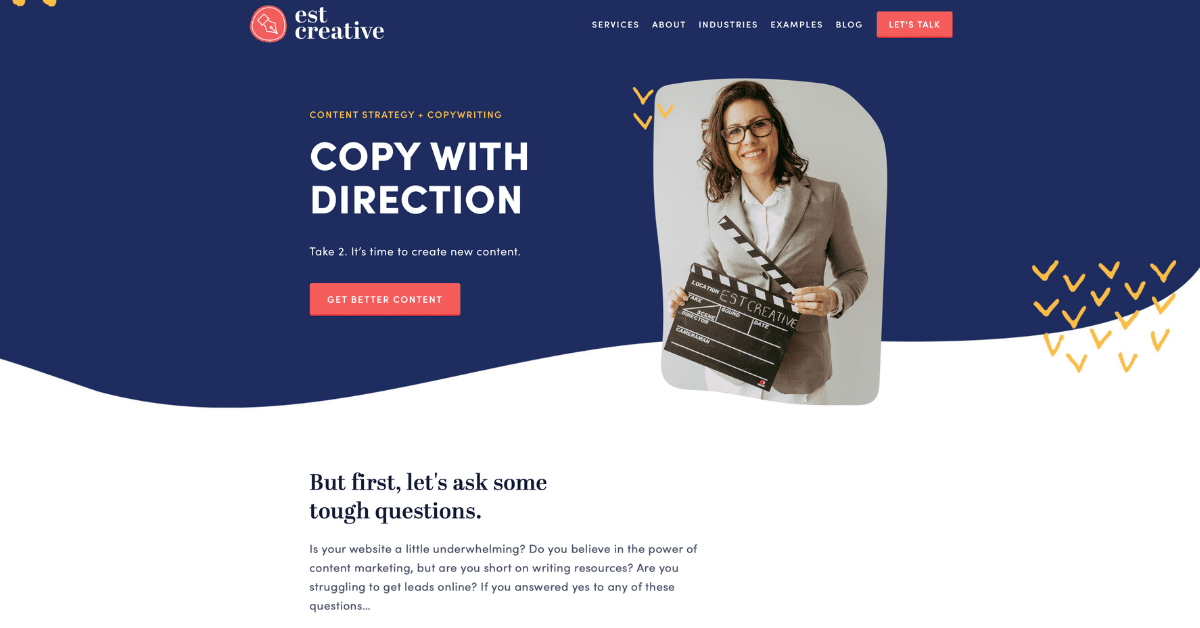 Quickly identifying herself as a professional that will be able to help take control of your content marketing and copy and illustrate why it's worth hiring a writer that will produce high-quality, well-written content.
5. Meg Peery
One of the suggestions that new writers are often hesitant to take is to choose a niche. It can be scary to only pick one or two specific industries that you focus on– after all, doesn't that mean that you're going to be turning off potential clients?
The truth is, though, that marketing to a specific audience can really go a long way in actually signing contracts with clients. When people are hiring a writer, they want to know that they are going to be receiving a well-researched, well-written text from someone that knows what they're doing.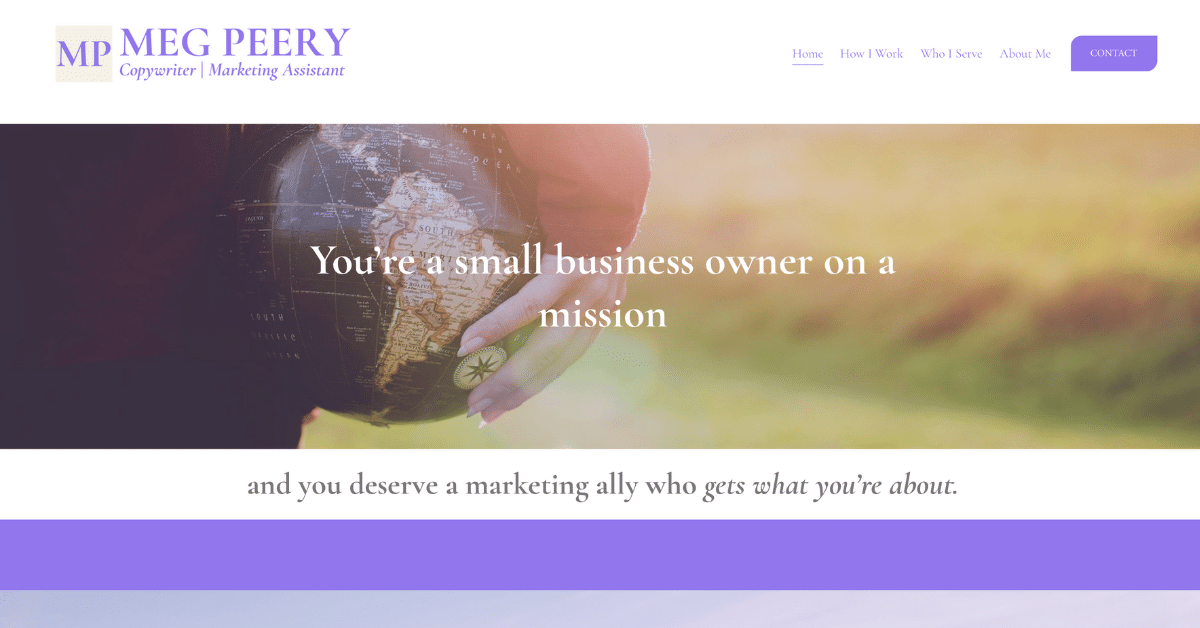 Meg Peery's site is a great example of how tailoring your message to a specific audience can really make your pitch more compelling. Her site is entirely geared toward small business owners from the get-go, displaying that she understands the concerns and needs of people that operate their own companies.
Her home page has a simple yet dense collection of images, testimonials, and copy that is directed right at small business owners. As you get to the bottom of the page, she confidently announces that visitors can have "all-in support by tomorrow" with a CTA "contact" button brightly displayed underneath.
6. Alaina Thomas
Built with Copyfolio, Alaina Thomas's site displays her three most popular services right away:
Email marketing copywriting
Blog writing
Social media copy
Rather than taking visitors on a long journey through testimonials and "about me" information, she cuts right to the chase.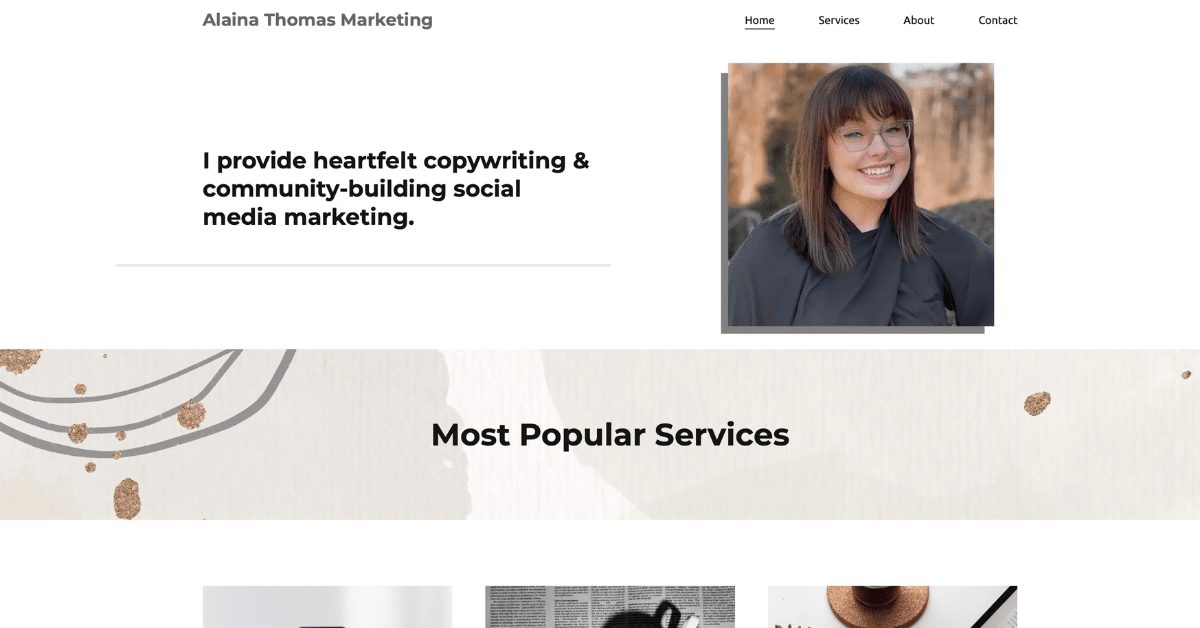 From there, she gets into some more of the details and creates a more personal portrait with a smiling picture of herself and a short introduction.
Ready to Get Paid to Write?
Building your own website doesn't have to take months and months of dedicated work, but you also might not want to throw one together in just fifteen minutes. When you peruse the websites on our list, you can see just how varied writers' sites can be and the ways that design, copy, UX, and more can have an impact on how you perceive each writer's services.
Creating your own website can be a great way to set yourself apart from the competition as a freelance writer. When you apply for gigs or pitch article ideas to online publications, you can link to your website where your portfolio, about me, and other useful information are all neatly and creatively displayed.
Whether or not you have your website up and going yet, though, you might just be ready to get out there and start getting paid to write. If you're looking for writing jobs right now, you're in the right place.
Our jobs board at Freelance Writing Jobs is curated with the specific intention of bringing together freelance writers with clients that want to hire them. There are plenty of people out there that are ready and willing to pay good money to freelance writers, and you can find them right on our jobs board!