Humans have been exchanging greeting cards for thousands of years-- exchanging messages of good will and greetings were customs in both ancient China and ancient Egypt.
In our increasingly digital world, you might wonder whether there's still a market for physical greeting cards. The truth is, not only do people still buy greeting cards, but you can actually get paid to write them!

If you're looking for greeting card writing jobs, you'll want to take a look at our list of companies that accept submissions and pay great rates for card prose and verse.
Not only can you get paid great rates for writing greeting cards, but many of these companies are open to creating ongoing relationships with writers. This means that you might be able to find repeat gigs or become a regular contributor to a major card company, which could eventually provide some steady supplemental income.
Greeting Card Jobs: Where You Can Get Paid to Write Cards
Are you looking to add some variety to the type of writing you're doing to make money? Writing greeting cards can be a rewarding (both personally and financially) way to spice up your work and your portfolio. While making a full-time living off of greeting card writing can be difficult to do, that doesn't mean it isn't a useful way to supplement your income.
1. Freelance Writing Jobs
If you're on the hunt for writing jobs that pay well, one of the first places you'll want to look is the Freelance Writing Jobs board. Though this is a job board that isn't specifically focused on greeting card jobs, you can find a wide variety of writing gigs here.
2. Blue Mountain Arts
Blue Mountain Arts actually publishes a lot more than greeting cards-- they're also in the business of putting out calendars, inspirational books, poetry anthologies, framed wall prints, and more.
This company was founded by Susan Polis Schutz and Stephen Schutz, and looks for works of "contemporary prose or poetry" between 50 and 300 words.
The focus of these short pieces should reflect ways that people today might want to communicate with one another but not be quite sure how to put it into words.
The company states that they aren't looking for one-liners, religious verse, or rhymed poetry. After you've submitted your piece, you'll hear back within eight weeks if your work is selected to move forward in the process.
It can actually be a few years before your submission is finally put out into the world, so the turnaround time here isn't very quick.
Pay: A writer's first accepted submission receives $300, while subsequently accepted submissions can earn up to $700.
3. Noble Works
Noble Works Cards is one of the leading humor greeting card publishers in the market, and they say that they are always looking for "funny, unique, risque, and carefully-crafted" cards.
There are plenty of different occasions for which Noble Works publishes cards-- everything from St. Patrick's Day and Hanukah to Anniversary Cards and Divorce cards.
What exactly is Noble Works looking for, you ask? Their writer guidelines say that they are looking for "fresh text and funny, clever writing. We prefer text that is flexible enough to be used with a variety of images."
Pay: Flat fee of $150 per verse or concept, successful submissions could lead to future work
4. Calypso Cards
Calypso Cards brands itself as a "sophisticated, contemporary, and innovative" greeting card company that has a number of different lines of cards, including one geared towards young, urban people called Selfish Kitty.
Pay: Not Specified
5. RSVP
RSVP is a company that offers more than 2,500 greeting cards for both everyday and seasonal occasions. They say that they're always looking for unique verses, messages, creative writing, or concepts to include in their greeting cards and are always happy to review submissions.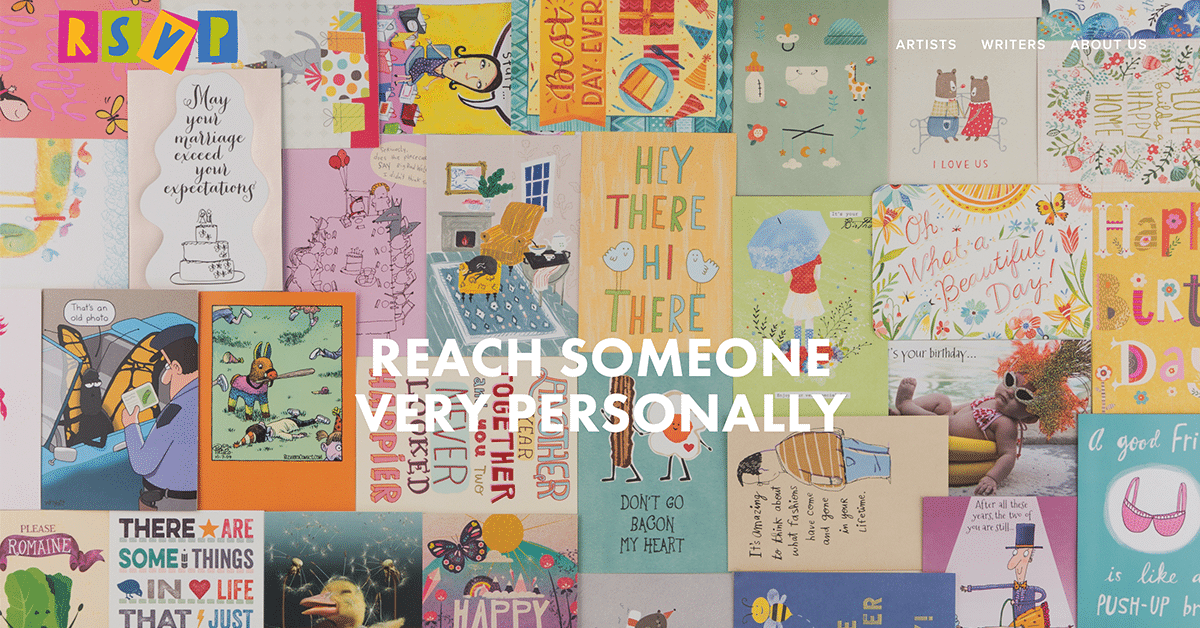 They ask that you take a look at their current line of cards before you submit your work so you can familiarize yourself with the type of messages they specialize in. Additionally, RSVP asks that you keep in mind that they're "looking for new or innovative messages and ways of expressing sentiments."
Most interested in a contemporary style of writing, they don't want greeting card copy that uses over-used or overly-formal wording. Originality and authenticity are key for having your submissions accepted, and they typically don't use religious verses or rhymed poetry.
Pay: Unspecified flat fee per verse used plus complimentary card samples
6. Avanti Press
Avanti Press is a bit old-school compared to some of the other greeting card companies on this list, as they accept samples of writing through snail mail rather than online. While they state that they have a full roster of verse contributors currently, they still accept submissions of samples in order to be considered in the future.
Pay: Unspecified
7. Viabella
Viabella accepts submissions from both artists and writers for their greeting cards. They ask that you submit all of your verse entries in one form rather than several different forms and that you only submit verse once every thirty days.
Pay: $50-$100 per verse
Is writing poetry you're passion? Are you wondering if you can turn this pursuit into a source of income? Check out our list of ways to make money writing poems.
8. Oatmeal Studios
Oatmeal Studios is a greeting card company where you can submit your funny greeting card ideas. If you more of a jokester than a poet, this might be a good choice for you.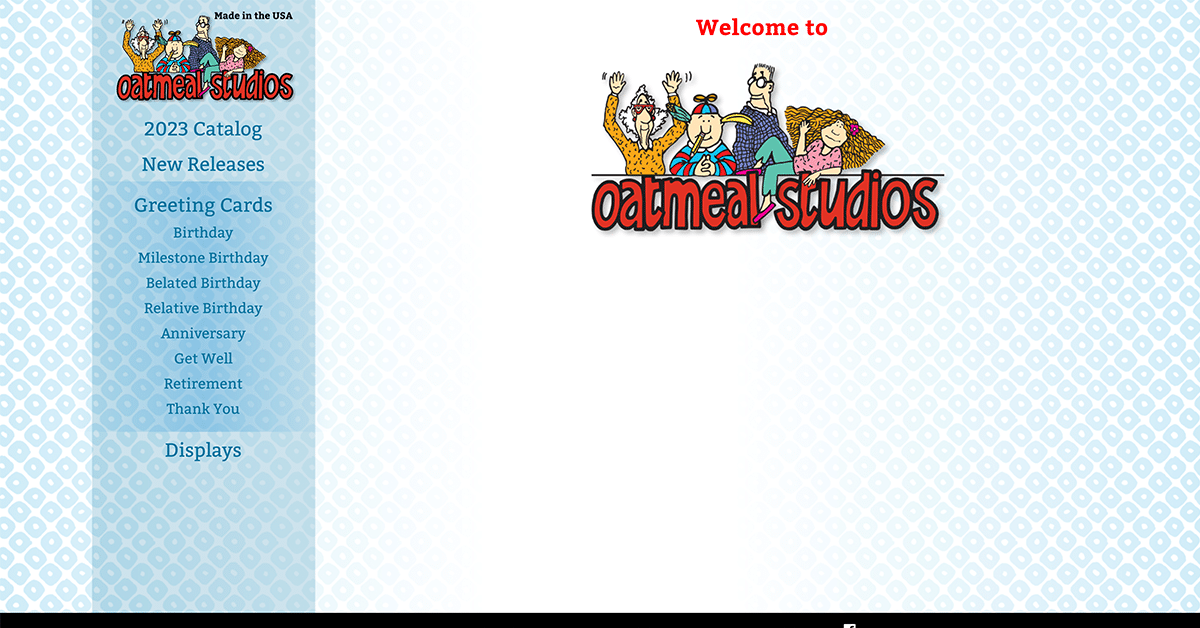 The submission guidelines do ask that you offer a description of the artwork you picture going with your words, but you don't have to actually create the artwork yourself.
You can submit card ideas for the following categories:
Birthday
Retirement
Get Well
Anniversary
Belated Birthday
Congratulations
Thank You
Pay: $100 for each accepted verse
Are you ready to start marketing yourself as a freelance writer? Check out these writer websites for inspiration.
How Much Money Can You Make Writing Greeting Cards?
If you've been earning money as a freelance writer for some time now, you've likely started thinking about your pay in terms of cents per word. Greeting cards, however, have a very low word count compared to online blogs or articles, so the pricing model is a bit different. Otherwise, you might end up only making a few bucks per card.
Of course, there is quite a bit of variety when it comes to how much greeting card companies pay for writing, and not all greeting card companies accept submissions. Those who do, however, can actually pay pretty well-- Blue Mountain Arts, for example, will pay $300 for the first accepted verse you write and more than that if you're a continuing contributor.
Blue Mountain Arts are on the high end of the pay spectrum for greeting cards, but this does illustrate just how much money it's possible to make as a greeting card writer. After all, when you consider that many greeting cards have a word word count of around 30 words or less, this means that you'd be making dollars per word rather than cents.
How Can I Start Making Money Writing Greeting Cards?
You might think that you need a portfolio of published verses in order to make money writing greeting cards, but this isn't actually necessary. The card companies on our list above accept submissions from absolutely anyone, and if they like what you send in you might either have your work published in a card or it might be the start of a working relationship with the brand.
One of the most important things you'll need to do if you want to start making money this way is to familiarize yourself with the card lines sold by each company. Each greeting card brand has its own style and aesthetic, some of which are more sentimental and sincere while others are funny or even a bit obscene.
It's also essential to follow any and all submission guidelines when you are considering sending your work to a greeting card company. Some of them want you to provide specific information such as your vision for the artwork, and others have forms you'll need to fill out in order to have your work considered.
FAQ About Greeting Card Jobs
The idea that you can get paid to write greeting cards is often a new one for many freelance writers, even when they've been in the game for a long time. Let's look at some of the most commonly asked questions about making money this way to help you determine whether it's worth pursuing.
What Skills Do I Need to Be Successful as a Greeting Card Writer?
If you're thinking about becoming a greeting card writer, there are a number of skills you'll need in order to be successful. While you don't need a college education in order to make money writing greeting cards, you will want to have the following skills:
Creativity
Strong writing skills
Patience
Persistence
Humor
An understanding of the industry and current trends
Writing greeting cards is only one of the many ways you can get paid to write. Check out this list of more than twenty websites where you can get paid to write blogs.
What Is the Standard Word Count for Greeting Cards?
How many words you are expected to write for a greeting card depend on the company that you are writing for. However, greeting cards are notably shorter than other types of freelance writing-- some companies might want you to write 30 words or less. On the other end of the spectrum, companies like Blue Mountain Arts ask for between 50 and 300 words.
Do I Need a Niche as a Greeting Card Writer?
No, not necessarily. That being said, you might find that you are better suited to writing more sincere cards or more humorous cards. Depending on your skills and style, there's a good chance that you will be more successful in one sphere or the other.
Are you new to the idea of making money writing? Check out our guide to finding entry-level writing jobs.
What Is the Submission Process Like For Greeting Card Jobs?
Every greeting card company has its own submission guidelines, which you'll want to read carefully before sending over your work. Some guidelines are much more lax than others, while some are highly specific. The last thing you want to do is have your submission thrown in the trash just because you missed one small thing you were asked to include, so thorough reading of the guidelines is highly recommended.
Is reading one of your favorite pastimes? Take a look at our recent post about more than ten ways that you can get paid to read!
How Can I Improve My Skills as a Greeting Card Writer?
When you're writing greeting card copy, the most important element is the quality of the message. You have to keep the intended audience in mind-- both the person purchasing the card and the person they're buying the card for-- in order to write in a way that will be appealing to the company and the consumer.
If you're looking to improve your skills as a greeting card writer, here are some things you can try:
Spend time browsing: Whether online or in a physical store, you'll want to read as many greeting cards as you can to get a sense of the full range of styles and messages out there as well as common formatting types.
Pay attention: Greeting cards intend to help express thoughts, feelings, and emotions between people, so listening and paying attention to everything that goes on around you can be a great source of inspiration for writing.
Take some risks: It can be tempting to always write in the same style we're used to, but getting out of your comfort zone and experimenting with different voices, tones, and styles can be a great exercise.
Be authentic: Think about who you are and how you ideally would want to communicate with the people you love in a variety of situations. By bringing you're own unique self to each project, you'll find that you can be much more successful in the long-run.
Write, write, write: Practice makes perfect, and greeting card writing is no different. Noble prize laureate William Faulkner once said that "in writing you must kill all your darlings," meaning that you must be ruthless in your editing and not too attached to verses that you personally like but don't really fit with the project.
Is reading one of your favorite pastimes? Have you often thought to yourself that you wish you could earn money just by reading books? If so, take a look at our list of more than ten ways to get paid to read.
Are You Ready to Make Money Writing?
Whether you want to write greeting cards, blogs, articles, white papers, marketing copy, case studies, e-books, or something else entirely, there are lots of ways to make money writing. The trickiest part in many cases is tracking down the right clients that are willing to pay well for the high-quality work you produce.
That's where the Freelance Writing Jobs board comes in. I decided to create this jobs board because of my own experience as both a writer and a site owner managing writers-- I understand the needs, questions, and concerns of both sides. You don't have to settle for earning a fraction of a penny per word, as there are plenty of site owners and publishers that are searching high and low for great writers just like you and willing to pay great rates to boot.